06/10/2011
Ce document rapporte la mesure de l'épaisseur de la paroi thoracique chez le militaire français, du moins dans la brigade alpine. Elle est en moyenne de 4,2 cm sur la ligne médio-claviculaire et de 3.03 cm en axillaire. 25% des combattants alpins ont une épaisseur > 5cm sur la ligne médio-claviculaire pour seulement 5.7% en axillaire. La conséquence en est la recommandation de réaliser les exsufflations en médecine de guerre non pas avec une aiguille de longeur supérieure à 5 cm mais par voie latérale. En effet le recours à la voie médio-claviculaire avec des aiguilles de 8 cm est à haut risque non seulement de ponction parenchymateuse mais aussi de strutures médiastinales vasculaires. Par ailleurs la réalisation d'une thoracostomie à la pince et au doigt doit être considérée comme le geste de référence, bien moins dangereux bien que de réalisation moins aisée.
11/09/2011
Menger T et all. doi:10.1016/j.injury.2011.06.420
La pose d'un drain thoracique n'est pas si simple que cela. C'est ce que rappelle cet article qui retrouve 28% de complications en cas de traumatisme ouvert et 17% en cas de traumatisme fermé.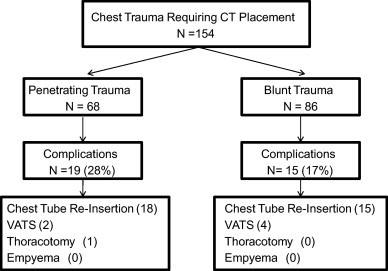 Donc pas de précipitation. L'urgence thoracique est à lever la compression par une thoracostomie au doigt. Un drain si l'EVASAN tarde.
26/12/2010
Le drainage thoracique en condition de combat doit rester l'exception. Il peut se justifier en cas d'échec ou d'insuffisance de l'exsufflation ou de la thoracostomie au doigt. Il peut également s'envisager selon les conditions tactiques si le délai d'EVASAN es long. Le document ci-après présente de manière très didactique la réalisation de ce geste pas si anodin qu'il n'y paraît.
http://www.copacamu.org/IMG/pdf/3-roch.pdf
23/12/2010
Can J Surg. 2010 June; 53(3): 184–188
Thoracic needle decompression for tension pneumothorax: clinical correlation with catheter length
Ball CG et all.
"
Résumé
Needle thoracostomy decompression was attempted in 1.5% (142/9689) of patients. Among patients with blunt injuries, the incidence was 1.4% (101/7073). Patients transported by helicopter (74%) received a 4.5-cm sheath. The remainder (26% ground transport) received a 3.2-cm catheter. A minority in each group (helicopter 15%, ground 28%) underwent immediate chest tube insertion (before thoracic ultrasound) because of ongoing hemodynamic instability. Failure to decompress the pleural space by NT was observed via ultrasound and/or CT in 65% (17/26) of attempts with a 3.2-cm catheter, compared with only 4% (3/75) of attempts with a 4.5-cm catheter (p < 0.001).
"
Morceau choisi
Although some authors13,16 have called for 7- to 8-cm needles to ensure that all OPTXs are decompressed, it appears that even catheters as short as 4.5 cm can puncture the heart at standard insertion locations in 2.5% of trauma patients.24 Other complications include chest wall hematoma, hemothorax, empyema and dislodgement in up to 8% of patients.18,25 In an attempt to avoid these issues, as well as access the pleural space more reliably, support for axillary NT is increasing.3,18,22,25,39 This lateral location takes advantage of a thinner chest wall (mean 2.6 cm)16 and is the military's first choice if under fire because it allows medics to keep a soldier's body armor in place while achieving decompression.40 Although we observed no direct complications in our study, we support the use of a catheter at of least 4.5 cm in length.
Commentaires
Le pneumothorax suffocant est la seconde cause de mort évitable au combat. Sa pris en charge repose sur la décompression de l'air retneu dans la cage thoracique. Outre la thoracostomie au doigt, geste de référence simple et sans danger, il peut être effectué une décompression à l'aiguille. Certains militent pour l'emploi d'un cathéter de grande taille de 8 cm du fait de l'épaisseur de la paroi thoracique, en particulier chez les militaires . Cependant le risque de plaie cardiaque et des gros vaisseaux est relativement important et peut atteindre 2.5% des blessés (1, 2, 3), ce d'autant plus que les ponctions sont habituellement réalisées de manière beaucoup trop médianes.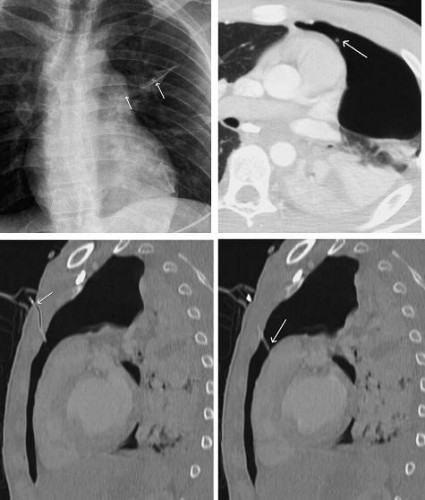 En condition de combat, une conduite raisonnable est de pratiquer cette exsufflation par voie LATERALE (4) et par ailleurs d'utiliser des cathéters de 5 cm qui apparaissent SUFFISANTS (5)
10/10/2010
L'exsufflation à l'aiguille en condition de combat diffère de la pratique habituelle. Le combattant est porteur d'effet de protection, l'épaisseur de la paroi thoracique de sujet musclé est importante, le stress lié au combat rend moins serein la réalisation du geste. Aussi est i important de privilégier les abords latéraux, du moins toujours pour les abords antérieurs un point de ponction situé en dehors d'une ligne passant par le mamelon et d'une ligne passant par la fourchette sternale. Ceci diffère des repères habituels dont l'emploi peut être source de de ponctions trop médianes génératrices de complications.
Les dangers d'une exsufflation à l'aiguille mal conduite
17/09/2010
L'exsufflation à l'aiguille est aussi efficace que le drainage thoracique pour assurer la survie.
Prehosp Emerg Care. 2009 Jan-Mar;13(1):18-27.
Needle versus tube thoracostomy in a swine model of traumatic tension hemopneumothorax.
Holcomb JB, McManus JG, Kerr ST, Pusateri AE.
U.S. Army Institute of Surgical Research, Fort Sam Houston, Texas 78234, USA. john.holcomb@amedd.army.mil
Abstract
OBJECTIVE: Traumatic tension hemopneumothorax is fatal if not treated rapidly. However, whether prehospital decompression is better achieved by chest tube or needle thoracostomy is unknown. We conducted this study to compare the immediate results and prolonged effectiveness of two methods of treatment for traumatic tension hemopneumothorax in a swine model.
METHODS: Ten percent of calculated total blood volume was instilled into the hemithorax of spontaneously ventilating swine (n = 5 per group, 40 +/- 3 kg). A Veres needle and insufflator were used to induce tension hemopneumothorax. Animals were randomized to one of four groups: 1) needle thoracostomy with 14-gauge intravenous catheter; 2) needle thoracostomy with Cook catheter; 3) 32-F chest tube thoracostomy; or 4) no intervention (control). Serial chest x-rays were obtained to document mediastinal shift before and after treatment. Arterial blood gas values and physiologic data were recorded. Postoperatively, thoracoscopy was performed to detect possible pulmonary injury from the procedure and/or catheter kinking or clotting.
RESULTS: Positive intrapleural pressure was rapidly relieved in all treated animals. Four-hour survival was 100% in the 14-gauge needle and chest tube thoracostomy groups, 60% in the Cook catheter group, and 0% in the control animals (p < 0.05). There were no significant differences in survival or physiologic measurements among the treated animals (p > 0.05).
CONCLUSIONS: In this animal model, needle thoracostomy using a 14-gauge or Cook catheter was as successful as chest tube thoracostomy for relieving tension hemopneumothorax.
Eur J Emerg Med. 2006 Oct;13(5):276-80.
Simple thoracostomy in prehospital trauma management is safe and effective: a 2-year experience by helicopter emergency medical crews.
Massarutti D, Trillò G, Berlot G, Tomasini A, Bacer B, D'Orlando L, Viviani M, Rinaldi A, Babuin A, Burato L, Carchietti E.
Abstract
OBJECTIVE: To evaluate the effectiveness and potential complications of simple thoracostomy, as first described by Deakin, as a method for prehospital treatment of traumatic pneumothorax.
METHODS: Prospective observational study of all severe trauma patients rescued by our Regional Helicopter Emergency Medical Service and treated with on-scene simple thoracostomy, over a period of 25 months, from June 1, 2002 to June 30, 2004.
RESULTS: Fifty-five consecutive severely injured patients with suspected pneumothorax and an average Revised Trauma Score of 9.6+/-2.7 underwent field simple thoracostomy. Oxygen saturation significantly improved after the procedure (from 86.4+/-10.2% to 98.5%+/-4.7%, P<0.05). No difference exists in the severity of thoracic lesions between patients with systolic arterial pressure and oxygen saturation below and above or equal to 90. A pneumothorax or a haemopneumothorax was found in 91.5% of the cases and a haemothorax in 5.1%. No cases of major bleeding, lung laceration or pleural infection were recorded. No cases of recurrent tension pneumothorax were observed. Forty (72.7%) patients survived to hospital discharge.
CONCLUSIONS: Prehospital treatment of traumatic pneumothorax by simple thoracostomy without chest tube insertion is a safe and effective technique.