17/02/2013
06/07/2012
Combat wounds in Iraq and Afghanistan from 2005 to 2009
J Belmont JP et all. (J Trauma Acute Care Surg. 2012;73: 3-12)
Morceaux choisis:
Among the 1,992,232 military service members who were deployed, there were 29,624 distinct combat wounds in 7,877 combat casualties. The mean age of the combat casualty cohort was 26.0 years old. The combat casualties were predominantly male (98I8%), Army (77,5%), and junior enlisted (59,0%). The distribution of combat wounds was as follows: head/neck, 28,1%; thorax, 9,9%; abdomen, 10,1%; and extremities, 51,9%. Explosive injury mechanisms accounted for 74,4% of all combat casualties, which was significantly higher than those caused by gunshot wounds (19,9%) (p G 0.0001). From 2005 to 2007, explosive mechanisms of injury were significantly more common in Iraq than in Afghanistan (p G 0.001). The percentage of explosive mechanisms increased significantly in Afghanistan between the years 2007 (59,5%) and 2008 (73,6%) ( p < 0.0003)
In addition, 1,064 (13,5%) of all combat casualties also sustained burn injuries

03/06/2012
In-vehicle extremity injuries from improvised explosive devices: current and future foci
The conflicts in Iraq and Afghanistan have been epitomized by the insurgents' use of the improvised explosive device against vehicle-borne security forces. These weapons, capable of causing multiple severely injured casualties in a single incident, pose the most prevalent single threat to Coalition troops operating in the region. Improvements in personal protection and medical care have resulted in increasing numbers of casualties surviving with complex lower limb injuries, often leading to long-term disability. Thus, there exists an urgent requirement to investigate and mitigate against the mechanism of extremity injury caused by these devices. This will necessitate an ontological approach, linking molecular, cellular and tissue interaction to physiological dysfunction. This can only be achieved via a collaborative approach between clinicians, natural scientists and engineers, combining physical and numerical modelling tools with clinical data from the battlefield. In this article, we compile existing knowledge on the effects of explosions on skeletal injury, review and critique relevant experimental and computational research related to lower limb injury and damage and propose research foci required to drive the development of future mitigation technologies.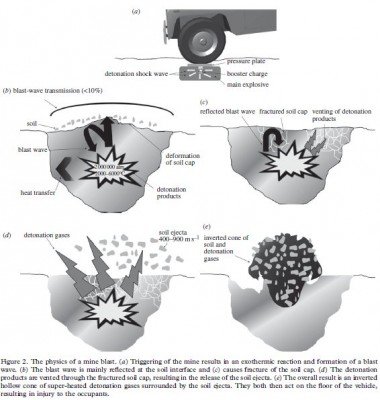 13/04/2012
Mortality and morbidity from combat neck injury
Breeze J. et all. J Trauma. 2012;72: 969–974.
-----------------------------------------------------------------------------------
BACKGROUND:
Neck injury represents 11% of battle injuries in UK forces in comparison with 2% to 5% in US forces. The aim of this study was to determine the causes of death and long-term morbidity from combat neck injury in an attempt to recommend new methods of protecting the neck.
METHOD:
Hospital and postmortem records for all UK servicemen sustaining battle injuries to the neck between January 1, 2006 and December 31, 2010 were analyzed.
RESULTS:
Neck wounds were found in 152 of 1,528 (10%) of battle injured service personnel. Seventy-nine percent of neck wounds were caused by explosions and were associated with a mortality rate of 41% compared with 78% from gunshot wounds (GSWs). Although current UK OSPREY neck collars can potentially protect zone I from explosive fragments, in the 58% in which the wearing of a neck collar was known, all service personnel chose not to wear the collar. The most common cause of death from explosive fragments was vascular injury (85%). Zone II was the most commonly affected area overall by explosive fragments and had the highest mortality but zone I was associated with the highest morbidity in survivors.
CONCLUSIONS:
Nape protectors, that cover zone III of the neck posteriorly, would only have potentially prevented 3% of injuries and therefore this study does not support their use. Current UK OSPREY neck collars potentially protect against the majority of explosive fragments to zones I and II and had these collars been worn potentially 16 deaths may have been prevented. Reasons for their lack of uptake by UK servicemen is therefore being evaluated. Surface wound mapping of penetrating explosive fragments in our series has been used to validate the area of coverage required for future designs of neck protection.
-----------------------------------------------------------------------------------
1. Des lésions essentiellement antérieures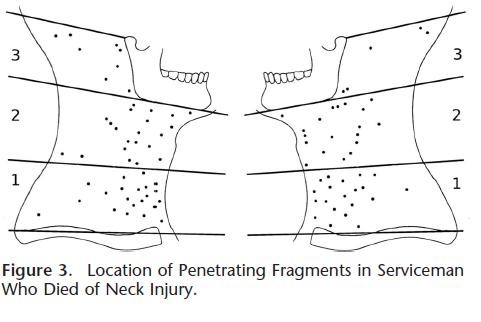 2. Une atteinte surtout des zones 1 et 2
3. 28% des décédés sont porteurs de lésions cervicales en rapport direct avec le décès dans 73% des cas.
4. Des causes de décès différentes en fonction du type lésionnel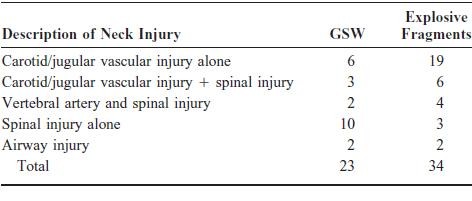 5. Un manque d' adhésion au port de la protection qui expliquerait cette fréquence, une histoire d'ergonomie ?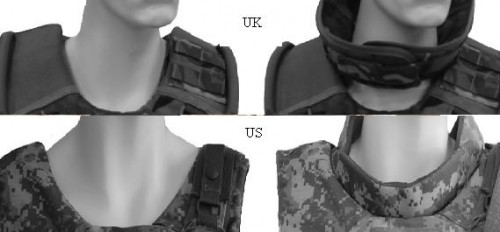 Du même auteur: Lire aussi
18/02/2012
Primary blast survival and injury risk assessment for repeated blast exposures
Panzer MB et all. J Trauma. 2012;72: 454–466.
Les conflits afghnas et irakiens ont vu les personnels des armées occidentales confrontées à de nouvelles modalités d'exposition à des ondes de surpression. Leur caractèes répété est responsable de lésions plus graves. Cet article actualise un certain nombre de données.
Ces quelques diagrammes expriment de manière très claire la relation entre le pic de pressions, sa durée et la répétition sur la survie et les lésions observées.
-------------------------------------------------------
BACKGROUND:
The widespread use of explosives by modern insurgents and terrorists has increased the potential frequency of blast exposure in soldiers and civilians. This growing threat highlights the importance of understanding and evaluating blast injury risk and the increase of injury risk from exposure to repeated blast effects.
METHODS:
Data from more than 3,250 large animal experiments were collected from studies focusing on the effects of blast exposure. The current study uses 2,349 experiments from the data collection for analysis of the primary blast injury and survival risk for both long- and short-duration blasts, including the effects from repeated exposures. A piecewise linear logistic regression was performed on the data to develop survival and injury risk assessment curves.
RESULTS:
New injury risk assessment curves uniting long- and short-duration blasts were developed for incident and reflected pressure measures and were used to evaluate the risk of injury based on blast overpressure, positive-phase duration, and the number of repeated exposures. The risk assessments were derived for three levels of injury severity: nonauditory, pulmonary, and fatality. The analysis showed a marked initial decrease in injury tolerance with each subsequent blast exposure. This effect decreases with increasing number of blast exposures.
CONCLUSIONS:
The new injury risk functions showed good agreement with the existing experimental data and provided a simplified model for primary blast injury risk. This model can be used to predict blast injury or fatality risk for single exposure and repeated exposure cases and has application in modern combat scenarios or in setting occupational health limits.
-------------------------------------------------------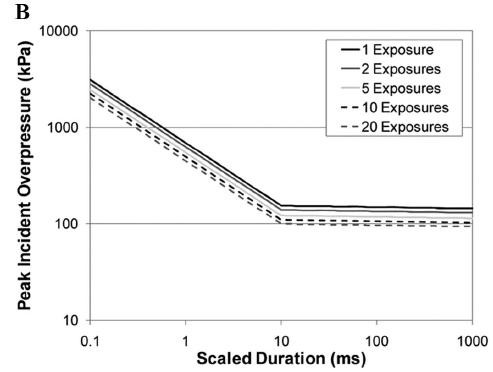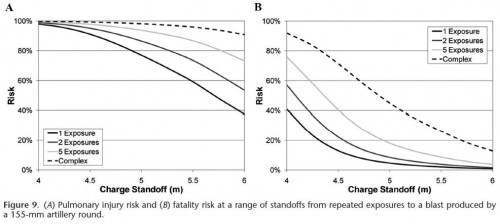 05/12/2011
Ear injuries sustained by British service personnel subjected to blast trauma
Breeze J. et all. The Journal of Laryngology & Otology (2011), 125, 13–17
Objectives:
To describe the pattern of ear injuries sustained by all British servicemen serving in Iraq and Afghanistan between 2006 and 2009; to identify all servicemen evacuated to the Royal Centre for Defence Medicine following blast injury; to ascertain how many underwent otological assessment; and to calculate the incidence of hearing loss.
Design and setting:
A retrospective analysis of data obtained from the Joint Theatre Trauma Registry and the Defence Analytical and Statistics Agency, together with audiometry records from the University Hospitals Birmingham National Health Service Trust.
Results:
Ear damage was present in 5 per cent of all British servicemen sustaining battle injuries. Tympanicmembrane rupture occurred in 8 per cent of personnel evacuated with blast injuries. In 2006, 1 per cent of servicemen sustaining blast injury underwent audiography; this figure rose to 13 per cent in 2009. Fifty-three per cent of these audiograms were abnormal.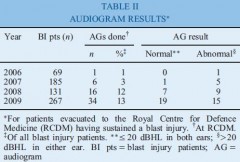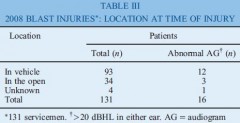 Conclusion:
The incidence of tympanic membrane rupture was higher than that found in previous conflicts. Otological assessment prior to and following military deployment is required to determine the incidence of ear injury amongst British servicemen following blast trauma.
01/01/2011