30/07/2018
Interventional Vitamin C: A Strategy for Attenuation of Coagulopathy and Inflammation in a Swine Polytrauma Model
Reynolds PS et Al. J Trauma Acute Care Surg. 2018 DOI:10.1097/TA.0000000000001844
-----------------------------
L'emploi de vitamine C à haute dose est connue dans le cadre de la réanimation du brûlé (1). Elle limiterait la fuite capillaire du fait de propriétés anti-oxydantes. Les auteurs rapportent un intérêt expérimental modéré mais prometteur à leur avis.
-----------------------------
BACKGROUND
Coagulopathy and inflammation induced by hemorrhagic shock and traumatic injury are associated with increased mortality and morbidity. Vitamin C (VitC) is an antioxidant with potential protective effects on the pro-inflammatory and pro-coagulant pathways. We hypothesized that high-dose VitC administered as a supplement to fluid resuscitation would attenuate inflammation, coagulation dysfunction, and end-organ tissue damage in a swine model of polytrauma and hemorrhage.

METHODS
Male Sinclair swine (n = 24; mean body weight 27 kg) were anesthetized, intubated, mechanically ventilated, and instrumented for physiological monitoring. Following stabilization, swine were subjected to shock/traumatic injury (hypothermia, liver ischemia and reperfusion, comminuted femur fracture, hemorrhagic hypotension), resuscitated with 500mL of hydroxyethyl starch, and randomized to receive either intravenous saline (NS), low dose VitC (50mg/kg; LO), or high dose VitC (200 mg/kg; HI). Hemodynamics, blood chemistry, hematology, and coagulation function (ROTEM) were monitored to 4 hours post-resuscitation. Histological and molecular analyses were obtained for liver, kidney, and lung.

RESULTS
Compared to VitC animals, NS swine showed significant histological end-organ damage, elevated acute lung injury scores, and increased mRNA expression of tissue pro-inflammatory mediators (IL-1, IL-8, TNF), PAI-1, and TF. There were no statistically significant differences between treatment groups on MAP or univariate measures of coagulation function; however, NS showed impaired multivariate clotting function at 4 hours.

CONCLUSIONS
Although correction of coagulation dysfunction was modest, intravenous high-dose VitC may mitigate the pro-inflammatory/pro-coagulant response that contributes to multiple organ failure following acute severe polytrauma.
25/07/2018
Prehospital

p

lasma

during a

ir

m

edical

t

ransport

in t

rauma

p

atients

at r

isk

for h

emorrhagic s

hock

.
Sperry JL et Al.

N Engl J Med. 2018 Jul 26;379(4):315-326
----------------------------
Confirmation par l'étude PAMPER de tout l'intérêt de l'apport préhospitalier précoce d'au moins deux unités de plasma. Cette étude porte sur plus de 500 traumatisés graves essentiellement fermés, surtout secondaires à des AVP avec tout de même une motralité qui paraît très élevée. Il semblerait que l'administration avant l'arrivée en structure chirurgicale (mesurée dans ce travail à 1h) soit déterminante. Cependant, elle n'inclue que 20% de plaies pénétrantes sans faire mention d'IED, ce qui limite fortement une extrapolation simple aux blessés par arme de guerre., ce d'autant que le tableau 2 montre que dans ce sous groupe le traitement conventionnel ferait mieux en terme de survie. Un éditorial abordant les problématiques "logistiques" liée à l'emploi du plasma accompagne cette publication (1). Lire également (2, 3).
----------------------------
BACKGROUND:
After a person has been injured, prehospital administration of plasma in addition to the initiation of standard resuscitation procedures in the prehospital environment may reduce the risk of downstream complications from hemorrhage and shock. Data from large clinical trials are lacking to show either the efficacy or the risks associated with plasma transfusion in the prehospital setting.
METHODS:
To determine the efficacy and safety of prehospital administration of thawed plasma in injured patients who are at risk for hemorrhagic shock, we conducted a pragmatic, multicenter, cluster-randomized, phase 3 superiority trial that compared the administration of thawed plasma with standard-care resuscitation during air medical transport. The primary outcome was mortality at 30 days.
RESULTS:
A total of 501 patients were evaluated: 230 patients received plasma (plasma group) and 271 received standard-care resuscitation (standard-care group). Mortality at 30 days was significantly lower in the plasma group than in the standard-care group (23.2% vs. 33.0%; difference, -9.8 percentage points; 95% confidence interval, -18.6 to -1.0%; P=0.03). A similar treatment effect was observed across nine prespecified subgroups (heterogeneity chi-square test, 12.21; P=0.79). Kaplan-Meier curves showed an early separation of the two treatment groups that began 3 hours after randomization and persisted until 30 days after randomization (log-rank chi-square test, 5.70; P=0.02). The median prothrombin-time ratio was lower in the plasma group than in the standard-care group (1.2 [interquartile range, 1.1 to 1.4] vs. 1.3 [interquartile range, 1.1 to 1.6], P<0.001) after the patients' arrival at the trauma center. No significant differences between the two groups were noted with respect to multiorgan failure, acute lung injury-acute respiratory distress syndrome, nosocomial infections, or allergic or transfusion-related reactions.
CONCLUSIONS:
In injured patients at risk for hemorrhagic shock, the prehospital administration of thawed plasma was safe and resulted in lower 30-day mortality and a lower median prothrombin-time ratio than standard-care resuscitation.
22/07/2018
Chitin

and Its

Effects

on

Inflammatory

and

Immune

Responses
-------------------------------------------
Les pansements hémostatiques à base de chitine sont largement utilisés et ne semblent pas actuellement poser de problème allergique (1). Néanmoins se pose la question de leur innocuité immune. Le développement des allergies croisées avec les produits dérivés de la mer et l'emploi de chitine comme complément alimentaire sont autant de facteurs de rencontre avec un allergène vrai. De telles allergies croisées s'observent également avec d'autres composants tels que la paravalbumine et le collagène des produits de la mer. Les pansements hémostatiques ne contenant pas de chitine ne semble pas exposer à ce risque potentiel.
-------------------------------------------
Chitin, a potential allergy-promoting pathogen-associated molecular pattern (PAMP), is a linear polymer composed of N-acetylglucosamine residues which are linked by β-(1,4)-glycosidic bonds. Mammalians are potential hosts for chitin-containing protozoa, fungi, arthropods, and nematodes; however, mammalians themselves do not synthetize chitin and thus it is considered as a potential target for recognition by mammalian immune system. Chitin is sensed primarily in the lungs or gut where it activates a variety of innate (eosinophils, macrophages) and adaptive immune cells (IL-4/IL-13 expressing T helper type-2 lymphocytes). Chitin induces cytokine production, leukocyte recruitment, and alternative macrophage activation. Intranasal or intraperitoneal administration of chitin (varying in size, degree of acetylation and purity) to mice has been applied as a routine approach to investigate chitin's priming effects on innate and adaptive immunity. Structural chitinpresent in microorganisms is actively degraded by host true chitinases, including acidic mammalian chitinases and chitotriosidase into smaller fragments that can be sensed by mammalian receptors such as FIBCD1, NKR-P1, and RegIIIc. Immune recognition of chitin also involves pattern recognition receptors, mainly via TLR-2 and Dectin-1, to activate immune cells to induce cytokine production and creation of an immune network that results in inflammatory and allergic responses. In this review, we will focus on various immunological aspects of the interaction between chitin and host immune system such as sensing, interactions with immune cells, chitinases as chitin degrading enzymes, and immunologic applications of chitin.
21/07/2018
Point of injury tourniquet application during Operation Protective Edge-What do we learn?
BACKGROUND:
Hemorrhage is a leading cause of preventable death on the battlefield. Timely tourniquet application to massively bleeding extremity wounds is critical for casualty survival albeit with reported adverse effects to extremity integrity. The aim of this study was to describe the immediate- and short-term outcomes of point of injury (POI) tourniquet applications during "Operation Protective Edge" (OPE).
METHODS:
A case series study regarding tourniquet application at the POI during OPE was collected. The data gathered included reports by medical providers at the POI, aerial and land evacuation vehicles, and receiving hospitals. Variables collected included, the number of tourniquet applications, caregiver level, tourniquet type, limb characters, tourniquet effectiveness, in-hospital procedures, complications, and short-term limb outcome.
RESULTS:
During OPE, the Israeli Defense Forces Medical Corps treated 704 casualties. Of these, 90 casualties were treated with 119 tourniquets of which 79 survived. Penetrating trauma was the mechanism of injury in 97.8% (88 of 90) of the casualties. Injuries sustained from improvised explosive devices and shrapnel were related to the use of more than one tourniquet per casualty and per limb (p = 0.034). The success rate of the first tourniquet was reported to be 70% (84 of 119), regardless of caregiver level (p = 0.56), tourniquet type (p = 0.16), or limb characters (p = 0.48). Twenty-seven (25.7%) of 105 of the tourniquets were converted to direct pressure dressings enroute to receiving hospitals two of the conversions failed and thus a new tourniquet was applied. Fasciotomy was performed on eight casualties (a single limb in each). Vascular injury was presumed to be the indication for fasciotomy in three of these cases, in the other five limbs (6%, 5 of 85), no vascular involvement was discovered during surgery, and the fasciotomy is suspected as tourniquet related. 7%) 6 of 85) suffered from neurological sequela that could not be explained by their primary injury. Total complication rate was 11.7% (10 of 85) (one patient had both fasciotomy and neural complication without vascular injury).
CONCLUSION:
Tourniquet use on the battlefield is a simple method of eliminating preventable death, we believe that clinical practice guidelines should promote liberal use of tourniquets by trained combatants and medical personnel with abilities to convert to direct pressure hemorrhage control when possible since an unjustified tourniquet application risks low rates minor morbidity, whereas a justifiable tourniquet not applied may be lethal.
Injury profile suffered by targets of antipersonnel improvised explosive devices: prospective cohort study
Victims of AP-IED were more likely, compared with APM victims, to have multiple amputations (70.0% vs 10.4%; p<0.001) or genital injury (26% vs 13%; p=0.007). Multiple amputations occurred in 70 patients: 5 quadruple amputations, 27 triple amputations and 38 double amputations. Pelvic fracture occurred in 21 victims, all but one of whom had multiple amputations. Severe perineal, gluteal or genital injuries were present in 46 patients. Severe soft tissue injury was universal, with injection of contaminated soil along tissue planes well above entry sites. There were 13 facial injuries, 9 skull fractures and 3 traumatic brain injuries. Eleven eye injuries were seen; none of the victims with eye injuries were wearing eye protection. The casualty fatality rate was at least 19%. The presence of more than one amputation was associated with a higher rate of pelvic fracture (28.6% vs 3.3%; p=0.005) and perineal–gluteal injury (32.6% vs 11.1%; p=0.009).
Conclusion
The injury pattern suffered by the target of the AP-IED is markedly worse than that of conventional APM. Pelvic binders and tourniquets should be applied at the point of injury to patients with multiple amputations or perineal injuries.
Improvised first aid techniques for terrorist attacks.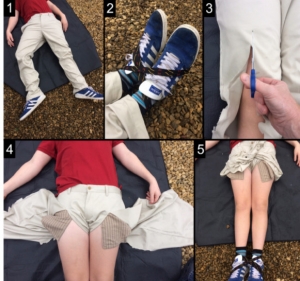 08/07/2018
Plasma

coadministration

improves

resuscitation

with

tranexamic

acid

or

prothrombin

complex

in a

porcine

hemorrhagic

shock

model
.
--------------------------
Ce travail est effectué sur un modèle de choc hémorragique porcin (35% de la masse circulante 8 groupes randomisés selon l'administration de TXA, de PFC ou de PCC). Il est de manière très significative en faveur d'une co-administration du TXE et de plasma. Ces résultats sont obtenus avec l'administration d'une quantité relativement importante de plasma ce qui en clinique humaine peut représenter une difficulté logistique d'approvisionnement et de transport tactique. Le choix des auteurs d'induire une fibrinolyse pharmacologie par administration d'altéplase peut peut être expliquer la netteté des résultats rapportés?

BACKGROUND:
Traumatic coagulopathy has now been well characterized and carries high rates of mortality owing to bleeding. A 'factor-based' resuscitation strategy using procoagulant drugs and factor concentrates in lieu of plasma is being used by some, but with little evidentiary support. We sought to evaluate and compare resuscitation strategies using combinations of tranexamic acid (TXA), prothrombin complex concentrate (PCC), and fresh frozen plasma (FFP).
METHODS:
Sixty adult swine underwent 35% blood volume hemorrhage combined with a truncal ischemia-reperfusion injury to produce uniform shock and coagulopathy. Animals were randomized to control (n = 12), a single-agent group (TXA, n = 10; PCC, n = 8; or FFP, n = 6) or combination groups (TXA-FFP, n = 10; PCC-FFP, n = 8; TXA-PCC, n = 6). Resuscitation was continued to 6 hours. Key outcomes included hemodynamics, laboratory values, and rotational thromboelastometry. Results were compared between all groups, with additional comparisons between FFP and non-FFP groups.
RESULTS:
All 60 animals survived to 6 hours. Shock was seen in all animals, with hypotension (mean arterial pressure, 44 mm Hg), tachycardia (heart rate, 145), acidosis (pH 7.18; lactate, 11), anemia (hematocrit, 17), and coagulopathy (fibrinogen, 107). There were clear differences between groups for mean pH (p = 0.02), international normalized ratio (p < 0.01), clotting time (CT; p < 0.01), lactate (p = 0.01), creatinine (p < 0.01), and fibrinogen (p = 0.02). Fresh frozen plasma groups had significantly improved resuscitation and clotting parameters (Figures), with lower lactate at 6.5 versus 8.4 (p = 0.04), and increased fibrinogen at 126 versus 95 (p < 0.01). Rotational thromboelastometry also demonstrated shortened CT at 60 seconds in the FFP group vs 65 seconds in the non-FFP group (p = 0.04).
CONCLUSION:
When used to correct traumatic coagulopathy, combinations of FFP with TXA or PCC were superior in improving acidosis, coagulopathy, and CT than when these agents are given alone or in combination without plasma. Further validation of pure factor-based strategies is needed.