30/10/2014
Lung ultrasound in the critically ill
Lichtenstein D. Annals of Intensive Care 2014, 4:1

Une approche systématisée de l'échographie pulmonaire simpllfie et fiabilise cet examen. C'est ce qu'explique cette publication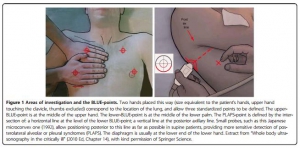 Lung ultrasound is a basic application of critical ultrasound, defined as a loop associating urgent diagnoses with
immediate therapeutic decisions.

It requires the mastery of ten signs:

the bat sign (pleural line), lung sliding
(yielding seashore sign), the A-line (horizontal artifact), the quad sign, and sinusoid sign indicating pleural effusion,
the fractal, and tissue-like sign indicating lung consolidation, the B-line, and lung rockets indicating interstitial
syndrome, abolished lung sliding with the stratosphere sign suggesting pneumothorax, and the lung point indicating
pneumothorax. Two more signs, the lung pulse and the dynamic air bronchogram, are used to distinguish atelectasis
from pneumonia. All of these disorders were assessed using CT as the "gold standard" with sensitivity and specificity
ranging from 90% to 100%, allowing ultrasound to be considered as a reasonable bedside "gold standard" in the
critically ill. The BLUE-protocol is a fast protocol (<3 minutes), which allows diagnosis of acute respiratory failure. It
includes a venous analysis done in appropriate cases. Pulmonary edema, pulmonary embolism, pneumonia, chronic
obstructive pulmonary disease, asthma, and pneumothorax yield specific profiles. Pulmonary edema, e.g., yields anterior
lung rockets associated with lung sliding, making the "B-profile." The FALLS-protocol adapts the BLUE-protocol to acute
circulatory failure. It makes sequential search for obstructive, cardiogenic, hypovolemic, and distributive shock using
simple real-time echocardiography (right ventricle dilatation, pericardial effusion), then lung ultrasound for assessing a
direct parameter of clinical volemia: the apparition of B-lines, schematically, is considered as the endpoint for fluid
therapy. Other aims of lung ultrasound are decreasing medical irradiation: the LUCIFLR program (most CTs in ARDS or
trauma can be postponed), a use in traumatology, intensive care unit, neonates (the signs are the same than in adults),
many disciplines (pulmonology, cardiology…), austere countries, and a help in any procedure (thoracentesis). A 1992,
cost-effective gray-scale unit, without Doppler, and a microconvex probe are efficient. Lung ultrasound is a holistic
discipline for many reasons (e.g., one probe, perfect for the lung, is able to scan the whole-body). Its integration
can provide a new definition of priorities. The BLUE-protocol and FALLS-protocol allow simplification of expert
echocardiography, a clear advantage when correct cardiac windows are missing.
24/06/2013
Husain LF et All. Sonographic diagnosis of pneumothorax.
J Emerg Trauma Shock 2012;5:76-81
Position de la sonde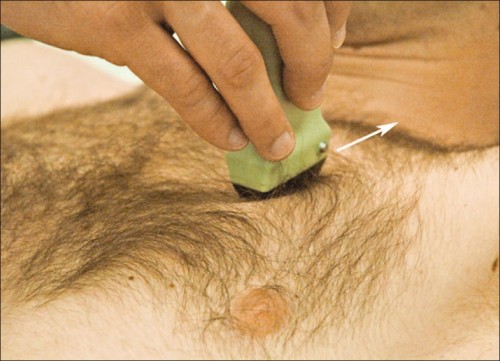 Images normales
Le glissement pleural Vidéo
La chauve-souris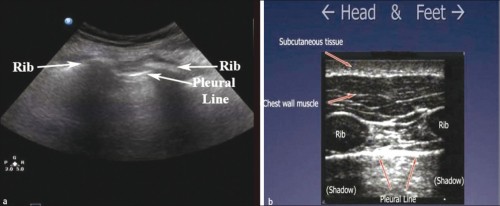 Le bord de plage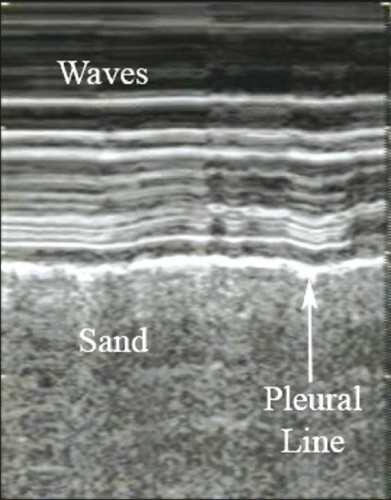 Les lignes B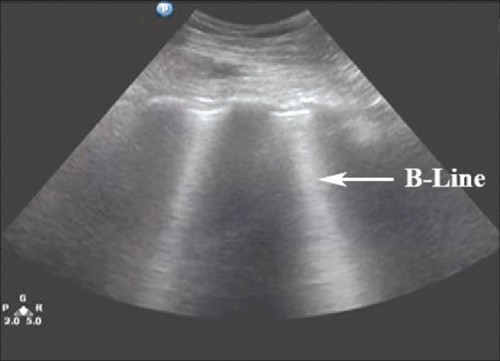 Images Anormales attestant du pneumothorax
Pas de glissement Vidéo
Le signe du Barcode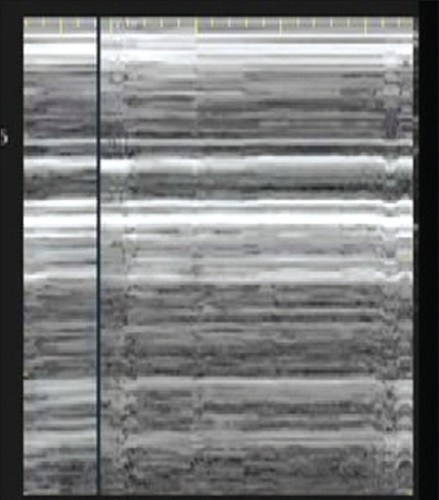 Les lignes A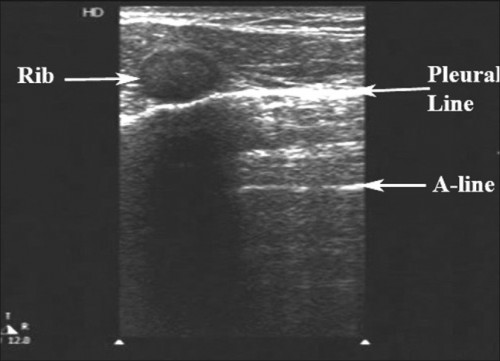 Le point poumon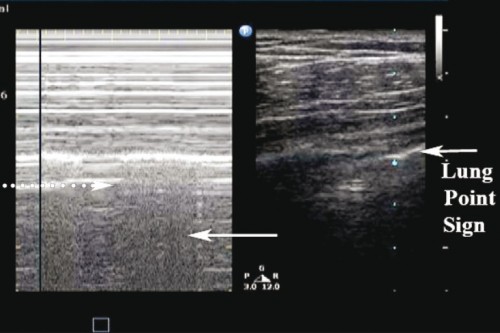 Le pouls pulmonaire
Pour aller plus loin:
05/05/2013
06/04/2013
L'échographie clinique s'est développée en médecine d'urgence depuis plusieurs années pour devenir incontournable. De nombreuses études ont montré son efficacité et son intérêt en médecine d'urgence tant extrahospitalière qu'intrahospitalière. Un transfert progressif de compétences s'est opéré entre les radiologues d'une part, les spécialistes ayant intégré les ultrasons dans leur pratique courante (cardiologues, gynéco-obstétriciens, etc.) d'autre part et les médecins urgentistes. De fait, la question principale d'aujourd'hui n'est plus « pourquoi faire ? », mais « comment faire ? ». Après avoir choisi le bon appareil et la bonne sonde, une des réponses à cette question consiste à choisir des indications et des incidences précises et focalisées répondant à des besoins cliniques et non pas seulement diagnostiques. Répondre, par exemple, aux questions posées par une douleur abdominale implique un raisonnement médical intégrant de nombreuses variables parmi lesquelles certaines peuvent être explorées par l'échographie d'urgence. Il n'est donc pas question, tout du moins dans un premier temps, de rechercher des lésions fines au chevet du malade, mais plutôt de repérer des anomalies directes ou indirectes s'intégrant dans un syndrome plus général.Du fait de la richesse potentielle des informations fournies par une échographieabdominale, une attitude pragmatique est donc la plus adaptée.
06/04/2012