22/03/2015
L'échographie: Investir de son temps pour avoir une pratique fiable
Ultrafest: A Novel Approach to Ultrasound in Medical Education Leads to Improvement in Written and Clinical Examinations
Connolly K et All. West J Emerg Med. 2015 Jan;16(1):143-8.
----------------------------------------------------------------------------------
L'apprentissage de l'échographie est un impératif en médecine d'urgence. Cependant une véritable qualification ne peut être obtenue qu'au travers de formations universitaires assorties de pratiques réelles et régulières. La pratique des certains protocoles simplifiés comme le FAST serait d'acquisition plus simples. Aussi sont souvent proposées des formations de courtes durées. Ces dernières semblent en théorie très intéressantes en contexte militaire. Une analyse raisonnée de la réalité doit tempérer cet enthousiasme. Le travail présenté montre que si les connaissances théoriques des étudiants sont améliorées par une formation d'une journée, cette dernière ne permet pas l'acquisition d'une pratique suffisamment fiable. Ainsi la formation de nos personnels, qui repose souvent sur des formations de courtes durée, doit elle vue comme une découverte de cette pratique et non pas comme permettant l'acquisition d'un réel savoir faire.
----------------------------------------------------------------------------------
Introduction:
Our objective was to evaluate the effectiveness of hands-on training at a bedside ultrasound (US) symposium ("Ultrafest") to improve both clinical knowledge and image acquisition skills of medical students. Primary outcome measure was improvement in multiple choice questions on pulmonary or Focused Assessment with Sonography in Trauma (FAST) US knowledge. Secondary outcome was improvement in image acquisition for either pulmonary or FAST.
Methods:
Prospective cohort study of 48 volunteers at "Ultrafest," a free symposium where students received five contact training hours. Students were evaluated before and after training for proficiency in either pulmonary US or FAST. Proficiency was assessed by clinical knowledge through written multiple-choice exam, and clinical skills through accuracy of image acquisition. We used paired sample t-tests with students as their own controls.
Results:
Pulmonary knowledge scores increased by a mean of 10.1 points (95% CI [8.9-11.3], p<0.00005), from 8.4 to a posttest average of 18.5/21 possible points. The FAST knowledge scores increased by a mean of 7.5 points (95% CI [6.3-8.7] p<0.00005), from 8.1 to a posttest average of 15.6/ 21. We analyzed clinical skills data on 32 students. The mean score was 1.7 pretest and 4.7 posttest of 12 possible points. Mean improvement was 3.0 points (p<0.00005) overall, 3.3 (p=0.0001) for FAST, and 2.6 (p=0.003) for the pulmonary US exam.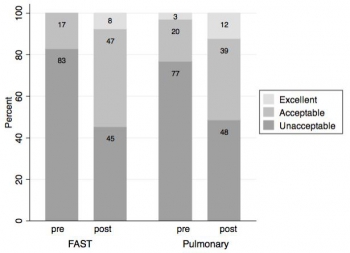 Conclusion:
This study suggests that a symposium on US can improve clinical knowledge, but is limited in achieving image acquisition for pulmonary and FAST US assessments. US training external to official medical school curriculum may augment students' education