26/10/2018
Experimental Comparison of Efficiency of First Aid Dressings in Burning White Phosphorus on Bacon Model.
BACKGROUND:
The aim of this study was to determine effectiveness of first aid dressings in extinguishing burning white phosphorous (WP), eliminating WP pieces from the surface, inhibiting re-ignition on the model (fresh bacon covered with military uniform), and preventing from late re-ignition caused by persistent WP pieces.
MATERIAL AND METHODS:
Burning WP was extinguished with several dressings: tactical Military Dressing (WJ10), wet gauze, 2 hydrocolloids, and 3 prototypes of hydrocolloids developed by the authors.
RESULTS:
All examined dressings were effective in extinguishing WP provided that the entire area of the burning substance was completely covered. Moist gauze was especially effective in extinguishing WP, and also removed and absorbed the majority of the WP mass, preventing deeper penetration of WP particles. The immediate re-ignition was observed when all the remaining examined dressings were removed from the bacon. A stream of water was dangerous, as it splashed and transferred pieces of WP around.
CONCLUSIONS:
Moist gauze placed on burning WP for approximately 3 min was most effective in extinguishing WP and removing most of the WP pieces. We recommend moist gauze, used once or twice, as the best primary means for WP elimination and preventing tissue penetration. As a dressing used for medical evacuation (MEDEVAC), or as a second step after complete removal of visible WP, innovative hydrocolloid or hydrogel dressings should be used.
24/10/2018
The

effect

of a

standard

whole

blood donation

on oxygen

uptake

and

exercise

capacity

: a

systematic review

and

meta-analysis

.
Van Remoortel H et Al. Transfusion. 2017 Feb;57(2):451-462
----------------------------------
Le recours à une banque de sang sur pied est très tentante dès lors que du sang conservé n'est pas ou peu disponible. Néanmoins dans nos conditions d'exercice ce prélèvement s'effectue sur des combattants dont les capacités physiques ne doivent pas être altérées. Ceci est d'autant plus vrai si ils peuvent présenter une déshydratation liée à leur exercice. La méta-analyse présentée ici met en évidence d'une part une baisse des paramètres physiologiques d'aptitude à l'effort pendant 48h et d'autre part le fait que le volume prélevé compte. Les sportifs entraînés pourraient avoir une meilleure tolérance au don de sang (1)
----------------------------------
BACKGROUND:
Blood is a life-saving product for many people worldwide. Voluntary blood donation serves the demand for blood but there are concerns among potential donors about the impact of blood loss on exercise performance. This systematic review aimed to collect the best available evidence of the effect of a standard whole blood donation on aerobic exercise performance.
STUDY DESIGN AND METHODS:
Studies from six databases dealing with a standard whole blood donation (400-500 mL) followed by (sub)maximal exercise were retained. The outcomes included exercise-related blood variables (hemoglobin [Hb] concentration, hematocrit, and red blood cell count) and endurance exercise variables ((sub)maximal oxygen uptake, peak work rate, and time to exhaustion). Overall effects at different time points postdonation were investigated by performing meta-analyses and calculating mean differences (and 95% confidence intervals). The GRADE methodology (Grades of Recommendation, Assessment, Development, and Evaluation) was used to assess the quality of evidence.
RESULTS:
We identified 6237 references and finally included 18 before-after studies of low quality. Twenty-four to 48 hours after a blood donation, 1) Hb concentration was reduced (7% decrease) until 14 days after the blood donation (4% decrease), 2) maximal oxygen uptake(VO2max ) was lower (7% decrease), and 3) a reduction in maximal exercise capacity (10% decrease) was present.
CONCLUSION:
The best available evidence indicates that a standard whole blood donation (400-500 mL) leads to small but potentially physiologically important reductions in Hb levels, VO2max , and maximal exercise capacity in the first 2 days after the blood donation.
19/10/2018
A small amount can make a difference: a prospective human study of the paradoxical coagulation characteristics of hemothorax.
-----------------
Si la retransfusion d'un hémothorax traumatique apparaît être sécuritaire (1) et avoir un intérêt notamment en réduisant l'apport de CGR, le recours à cette pratique n'est pas encore totalement valide et apparaît encore réservé à des situations de pénurie extrême en dérivés sanguins (2). Il reste encore une incertitude sur son inocuité dès lors que l'on administre du plasma. C'est ce que met en évidence ce document qui est conforté par d'autres travaux (3). Il existerait en effet une situation d'hypercoagulabilité paradoxale y compris avec l'emploi de faibles doses de plasma. En conséquence le recours à l'autotransfusion de sang épanché doit il être bien réfléchi dans le cadre d'une stratégie plasma first associé à l'administration d'acide tranexaminique.
BACKGROUND:
The evacuated hemothorax has been poorly described because it varies with time, it has been found to be incoagulable, and its potential effect on the coagulation cascade during autotransfusion is largely unknown.
METHODS:
This is a prospective descriptive study of adult patients with traumatic chest injury necessitating tube thoracostomy. Pleural and venous samples were analyzed for coagulation, hematology, and electrolytes at 1 to 4 hours after drainage. Pleural samples were also analyzed for their effect on the coagulation cascade via mixing studies.
RESULTS:
Thirty-four subjects were enrolled with a traumatic hemothorax. The following measured coagulation factors were significantly depleted compared with venous blood: international normalized ratio (>9 vs 1.1) (P < .001) and activated partial thromboplastin time (aPTT) (>180 vs 24.5 seconds) (P < .001). Mixing studies showed a dose-dependent increase in coagulation dilutions through 1:8 (P < .05).
CONCLUSIONS:
An evacuated hemothorax does not vary in composition significantly with time and is incoagulable alone. Mixing studies with hemothorax plasma increased coagulation, raising safety concerns.
A Study on the Tactical Safety of Endotracheal Intubation Under Darkness.
OBJECTIVE:
Strict blackout discipline is extremely important for all military units. To be able to effectively determine wound characteristics and perform the necessary interventions at nighttime, vision and light restrictions can be mitigated through the use of tactical night vision goggles (NVGs). The lamp of the classical laryngoscope (CL) can be seen with the naked eye; infrared light, on the other hand, cannot be perceived without the use of NVGs. The aim of the study is to evaluate the safety of endotracheal intubation (ETI) procedures in the darkunder tactically safe conditions with modified laryngoscope (ML) model.
METHODS:
We developed an ML model by changing the standard lamp on a CL with an infrared light-emitting diode lamp to obtain a tool which can be used to perform ETI under night conditions in combination with NVGs. We first evaluated the safety of ETI procedures in prehospital conditions under darkness by using both the CL and the ML for the study, and then researched the procedures and methods by which ETI procedure could be performed in the dark under tactically safe conditions. In addition, to better ensure light discipline in the field of combat, we also researched the benefits, from a light discipline standpoint, of using the poncho liner (PL) and of taking advantage of the oropharyngeal region during ETIs performed by opening the laryngoscope blades directly in the mouth and using a cover. During the ETI procedures performed on the field, two experienced combatant staff simulated the enemy by determining whether the light from the two different types of laryngoscope could be seen at 100-m intervals up to 1,500 m.
RESULTS:
In all scenarios, performing observations with an NVG was more advantageous for the enemy than with the naked eye. The best measure that can be taken against this threat by the paramedic is to ensure tactical safety by having an ML and by opening the ML inside the mouth with the aid of a PL. The findings of the study are likely to shed light on the tactical safety of ETI performed with NVGs under darkness.
CONCLUSION:
Considering this finding, we still strongly recommend that it would be relatively safer to open the ML blade inside the mouth and to perform the procedures under a PL. In chaotic environments where it might become necessary to provide civilian health services for humanitarian aid purposes (Red Crescent, Red Cross, etc.) without NVGs, we believe that it would be relatively safer to open the CL blade inside the mouth and to perform the procedures under a PL.
Safest light in a combat area while performing intravenous access in the dark.
INTRODUCTION:
Cannulation for the administration of intravenous fluids is integral to the prehospital management of injured military patients. However, this may be technically challenging to undertake during night-time conditions where the use of light to aid cannulation may give the tactical situation away to opponents. The aim of this study was to investigate the success and tactical safety of venepuncture under battlefield conditions with different colour light sources.
METHOD:
The procedure was carried out with naked eye in a bright room in the absence of a separate light source, with a naked eye in a dark room under red, white, blue and green light sources and under an infrared light source while wearing night vision goggles (NVGs). The success, safety, degree of difficulty and completion time for each procedure were then explored.
RESULTS:
All interventions made in daylight and in a dark room were found to be 100% successful. Interventions performed under infrared light while wearing NVGs took longer than under other light sources or in daylight. Interventions performed under blue light were tactically safer when compared with interventions performed under different light sources.
CONCLUSION:
Blue light offered the best tactical safety during intravenous cannulation under night-time conditions and is recommended for future use in tactical casualty care. The use of NVGs using infrared light cannot be recommended if there is the possibility of opponents having access to the technology.
Opioid analgesia on the battlefield: a retrospective review of data from Operation HERRICK.
Lewis P et Al. J R Army Med Corps. 2018 Sep;164(5):328-331.
BACKGROUND:
Acute pain secondary to trauma is commonly encountered on the battlefield. The use of morphine to manage pain during combat has been well established since the 19th century. Despite this, there is relatively little research on analgesia use in this environment. This study aims to review the use and complications of morphine and other opioids during Operation HERRICK.
METHODS: A database search of the Joint Theatre Trauma Registry was completed looking for all incidences of morphine, fentanyl or naloxone use from February 2007 to September 2014. Microsoft Excel was used to analyse the results.
RESULTS:
Opioid analgesia was administered to 5801 casualties. Morphine was administered 6742 times to 3808 patients. Fentanyl was administered 9672 times to 4318 patients. Naloxone was used 18 times on 14 patients, giving a complication rate of 0.24%. Opioid doses prior to naloxone administration range from 0 to 72 mg of morphine and from 0 to 100 mcg of fentanyl. Four casualties (two local civilians and two coalition forces) received naloxone despite no recorded opioids being administered. Opium abuse was prevalent among the local population in Afghanistan, and this could explain the rationale behind two local national casualties receiving naloxone without any documented opioids being given.
CONCLUSION:
The use of opioids in a battlefield environment is extremely safe. Complication rates are similar to previously published data which is reassuring. The efficacy of different opioids was not covered by this study, and further analysis is required, particularly following the introduction of oral transmucosal fentanyl citrate and the availability of novel non-opioid analgesics.
09/10/2018
Airway and ventilation management strategies for hemorrhagic shock. To tube, or not to tube, that is the question!
------------------------------
Primum non nocere. Souvent ne pas faire parce que c'est le plus prudent ET NON PAS PARCE QU'ON N'A PAS APPRIS ET QU'ON NE SAIT DONC PAS FAIRE.
------------------------------
Many standard trauma management guidelines advocate the early use of endotracheal intubation (ETI) and positive pressure ventilation as key treatment interventions in hemorrhagic shock. The evidence for using these airway and ventilation strategies to manage a circulation problem is unclear. The potentially harmful effects of drug-assisted intubation and positive pressure ventilation include reduced cardiac output, apnea, hypoxia, hypocapnea (due to inadvertent hyperventilation), and unnecessarily prolonged on-scene times. Conversely, the beneficial effects of spontaneous negative pressure ventilation on cardiac output are well described. Few studies, however, have attempted to explore the potential advantages of a strategy of delayed intubation and ventilation (together with a policy of aggressive volume replacement) in shocked trauma patients. Given the lack of evidence, the decision making around how, when, and where to subject shocked trauma patients to intubation and positive pressure ventilation remains complex. If providers choose to delay intubation, they must have the appropriate skills to safely manage the airway and recognize the need for subsequent intervention. If they decide to perform intubation and positive pressure ventilation, they must understand the potential risks and how best to minimize them. We suggest that for patients with hemorrhagic shock who do not have a compromised airway and who are able to maintain adequate oxygen saturation (or mentation if monitoring is unreliable), a strategy of delayed intubation should be strongly encouraged.
Catastrophic haemorrhage in military major trauma patients: a retrospective database analysis of haemostatic agents used on the battlefield.
Winstanley M Winstanley et Al. J R Army Med Corps. 2018 Oct 3. pii: jramc-2018-001031
-----------------------------------------
Une publication qui mettrait en évidence l'intérêt des pansements hémostatiques avec une amélioration de la survie des blessés les plus graves. A prendre quand même avec de beaucoup de recul car les derniers blessés inclus le sont sur une période de plus de 10 ans et qu'entre temps beaucoup d'évolution ont eu lieu tant sur la stratégie de prise en charge que les pansements hémostatiques notamment pour le QUIKCLOT concurrent américain du CELOX qui lui est britannique. Par ailleurs les groupes sont stratifiés par index global de sévérité sans que l'on ait une idée sur la nature des lésions ayant motivé leur emploi? Comme pour les tourniquets où les contrefaçons foisonnent, les enjeux financiers liés à la promotion de tel pansement ou d'un autre sont colossaux dès lors que le marché civil s'ouvre à eux. Une publication dont l'impartialité est à remettre en cause. On rappelle quand même qu'un bon packing de plaie avec un bon pansement compressif représentent la base.

-----------------------------------------
OBJECTIVES:
Catastrophic haemorrhage is a leading cause of morbidity and mortality in trauma, in both military and civilian settings. There are numerous studies looking at the effectiveness of different haemostatic agents in the laboratory but few in a clinical setting. This study analyses the use of haemostatic dressings used in patients injured on the battlefield and their association with survival.
METHOD:
A retrospective database review was undertaken using the UK Joint Theatre Trauma Registry from 2003 to 2014, during combat operations in Iraq and Afghanistan. Data included patient demographics, the use of haemostatic dressings, New Injury Severity Score (NISS) and patient outcome.
RESULTS:
Of 3792 cases, a haemostatic dressing was applied in 317 (either Celox, Hemcon or Quickclot). When comparing patients who had a haemostatic dressing applied versus no haemostatic agent, there was a 7% improvement in survival. Celox was the only individual haemostatic dressing that was associated with a statistically significant improvement in survival, which was most apparent in the more severely injured (NISS 36-75).
CONCLUSION:
We have shown an association between use of haemostatic agents and improved survival, mostly in those with more severe injuries, which is particularly evident in those administered Celox. This supports the continued use of haemostatic agents as part of initial haemorrhage control for patients injured in conflict and suggests that civilian organisations that may need to deal with patients with similar injury patterns should consider their use and implementation.
08/10/2018
05/10/2018
Ultrasound Is Superior to Palpation in Identifying the Cricothyroid Membrane in Subjects with Poorly Defined Neck Landmarks: A Randomized Clinical Trial.
Siddiqui N1, et Al. Anesthesiology. 2018 Sep 26.
BACKGROUND: Success of a cricothyrotomy is dependent on accurate identification of the cricothyroid membrane. The objective of this study was to compare the accuracy of ultrasonography versus external palpation in localizing the cricothyroid membrane.
METHODS:
In total, 223 subjects with abnormal neck anatomy who were scheduled for neck computed-tomography scan at University Health Network hospitals in Toronto, Canada, were randomized into two groups: external palpation and ultrasound. The localization points of the cricothyroid membrane determined by ultrasonography or external palpation were compared to the reference midpoint (computed-tomography point) of the cricothyroid membrane by a radiologist who was blinded to group allocation. Primary outcome was the accuracy in identification of the cricothyroid membrane, which was measured by digital ruler in millimeters from the computed-tomography point to the ultrasound point or external-palpation point. Success was defined as the proportion of accurate attempts within a 5-mm distance from the computed-tomography point to the ultrasound point or external-palpation point.
RESULTS:
The percentage of accurate attempts was 10-fold greater in the ultrasound than external-palpation group (81% vs. 8%; 95% CI, 63.6 to 81.3%; P < 0.0001). The mean (SD) distance measured from the external-palpation to computed-tomography point was five-fold greater than the ultrasound to the computed-tomography point (16.6 ± 7.5 vs. 3.4 ± 3.3 mm; 95% CI, 11.67 to 14.70; P < 0.0001).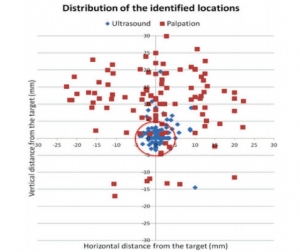 Analysis demonstrated that the risk ratio of inaccurate localization of the cricothyroid membrane was 9.14-fold greater with the external palpation than with the ultrasound (P < 0.0001). There were no adverse events observed.
CONCLUSIONS:
In subjects with poorly defined neck landmarks, ultrasonography is more accurate than external palpation in localizing the cricothyroid membrane.
03/10/2018
Intravenous synthetic platelet (SynthoPlate) nanoconstructs reduce bleeding and improve 'golden hour' survival in a porcine model of traumatic arterial hemorrhage.
Traumatic non-compressible hemorrhage is a leading cause of civilian and military mortality and its treatment requires massive transfusion of blood components, especially platelets. However, in austere civilian and battlefield locations, access to platelets is highly challenging due to limited supply and portability, high risk of bacterial contamination and short shelf-life. To resolve this, we have developed an I.V.-administrable 'synthetic platelet' nanoconstruct (SynthoPlate), that can mimic and amplify body's natural hemostatic mechanisms specifically at the bleeding site while maintaining systemic safety.
Previously we have reported the detailed biochemical and hemostatic characterization of SynthoPlate in a non-trauma tail-bleeding model in mice. Building on this, here we sought to evaluate the hemostatic ability of SynthoPlate in emergency administration within the 'golden hour' following traumatic hemorrhagic injury in the femoral artery, in a pig model. We first characterized the storage stability and post-sterilization biofunctionality of SynthoPlate in vitro. The nanoconstructs were then I.V.-administered to pigs and their systemic safety and biodistribution were characterized. Subsequently we demonstrated that, following femoral artery injury, bolus administration of SynthoPlate could reduce blood loss, stabilize blood pressure and significantly improve survival. Our results indicate substantial promise of SynthoPlate as a viable platelet surrogate for emergency management of traumatic bleeding.