31/08/2011
30/08/2011
Une étude à paraître conduite par une équipe US a mis en évidence l'intérêt de l'acide tranexaminique.
----------------
Tranexamic acid decreases mortality following wartime injury: the Military Application of Tranexamic acid in Trauma Emergency Resuscitation Study (MATTERS) MAJ Jonathan J. Morrison, MB ChB, MRCS, RAMC(V), LT COL (sel) Joseph J. Dubose, MD, USAF MC, COL Todd E. Rasmussen, MD, USAF MC, SURG CAPT Mark Midwinter, BMedSci, MD FRCS RN
http://archsurg.ama-assn.org/cgi/content/short/archsurg.2...

A recent registry-based study of combat injured troops receiving blood in Afghanistan (January 2009 - December 2010) at the Bastion Role 3 facility has demonstrated findings supportive of TXA use in this population. In a review of 896 combat casualties treated at Bastion over this time frame, 32.7% (N=293) received TXA (mean ± SD dose: 2.3 ± 1.3g) while 67.2% (N=603) did not receive TXA. In the overall cohort, the TXA group was more severely injured (ISS: 25.2±16.6 vs. 22.5±18.5; p<0.001), required more blood (11.8±12.1 vs. 9.8±13.1 pRBC units; p<0.001), and had a lower Glasgow Coma Score (7.3±5.5 vs. 10.5±5.5; p<0.001) and initial systolic blood pressure (112±29.1 vs. 122.5±30.3 mmHg), but also had a lower unadjusted mortality than the no-TXA group (17.4% vs. 23.9%; p=0.028). In the massive transfusion cohort (N=321; 24 hour transfusion: 21.9±14.7 pRBC; 19.1±13.3 FFP and 3.5±3.2 apheresis platelet units), mortality was also lower in the TXA (mean ± SD dose: 2.4 ± 1.4g) compared to the no-TXA group (14.4% vs. 28.1%; p=0.004). In a multivariate regression model, TXA use in the massive transfusion cohort was independently associated with survival (odds ratio: 7.28; 95% confidence interval: 3.02-17.32. For all patients requiring at least one unit of blood after combat injury, patients receiving TXA had higher rates of DVT (2.4% vs. 0.2%, p = 0.001) and PE (2.7% vs. 0.3%, p =0.001), but were also more likely to have injury patterns associated with higher risk of thromboembolic events ; including higher mean ISS (25 vs 23, p < 0.001), more severe extremity injuries (extremity AIS >=3 66.6% in TXA group, 47.3% non-TXA, p < 0.001), and more commonly GCS < or = 8 (63.3% vs. 35.6%, p < 0.001). These survival benefit findings associated with TXA use support the hypothesis that the use of this adjunct, in conjunction with component-based resuscitation following combat injury, is associated with improved survival. This association is most prominent in those requiring massive transfusion.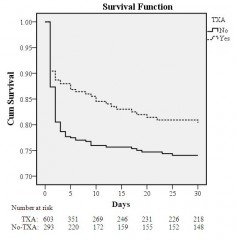 ----------------
Exacyl 1g IV au mieux dans l'heure et pas après 3 heures après la blessure
L'hémorragie jonctionnelle n'est pas garrotable, n'est pas forcément aisément comprimable directement. Parmi les solutions outre l'exacyl dans l'heure on peut avancer la compression des jonctions.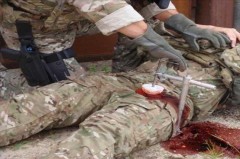 Une recommandation d'emploi du CRoC ( combat ready clamp ) est hautement probable dans la prochaien version du TCCC. Lire ce document: Hémorragies jonctionnelles.pdf . Regarder une vidéo d'entraînement.
29/08/2011
http://journals.lww.com/jtrauma/Abstract/2011/07001/Preho...
La documentation des gestes effectués dans le cadre du sauvetage au combat est mal faite, y compris dans un registre comme le JTTR. Moins de 20 % ides dossiers contiennnent des informations pertinentes permettant une analyse fiable. Seules deux publications rapportent la réalité de ce qui est fait (voir ici et ici).
Il apparait fondamental de documenter le rsa tel que cela est prévu par la procédure du sauvetage au combat.
27/08/2011
16/08/2011
Une mise à jour du guide US de prévention des infections. A lire et à relire:
- Emballer les plaies avec des pansements STERILES.
- La céfazoline en première ligne avec comme alternative la clindamycine. Le détail ici.
- Il n'est pas utile d'ajouter de la pénicilline G pour la gangrène gazeuse.
- L'antibiothérapie doit être débutée au plus tôt, sur le terrain que si l'evasan est ou risque d'être tardive: Idéalement dans les 3 heures suivant la blessure.

- L'irrigation à BASSE PRESSION des plaies par sérum salé ou eau de boisson est efficace. Le volume nécessare n'est pas connu. Un volume minimum de 3 l/j est avancé.
La synthèse est ici