26/09/2011
23/09/2011
12/09/2011
Intra-articular lidocaine for the reduction of posterior shoulder dislocation
Socransky SJ et all. CJEM 2005;7(6):423-426
---------------------------------------------------------------------
La luxation antérieure de l'épaule est le type de luxation le plus souvent rencontré au département d'urgence. La lidocaïne intra-articulaire est une méthode analgésique efficace pour faciliter la réduction de cette luxation. La luxation postérieure représente un faible pourcentage des luxations de l'épaule. Nous présentons un cas de luxation postérieure de l'épaule chez une patiente âgée; la réduction fut effectuée à la suite d'une injection intra-articulaire de lidocaïne, une solution de rechange utile pour faciliter la réduction des luxations de l'épaule, en particulier chez les patients à risque plus élevé de complications liées à la sédation.
---------------------------------------------------------------------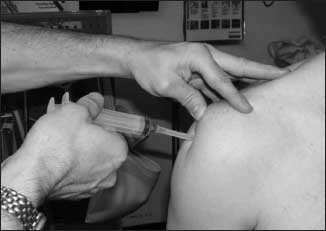 11/09/2011
Menger T et all. doi:10.1016/j.injury.2011.06.420
La pose d'un drain thoracique n'est pas si simple que cela. C'est ce que rappelle cet article qui retrouve 28% de complications en cas de traumatisme ouvert et 17% en cas de traumatisme fermé.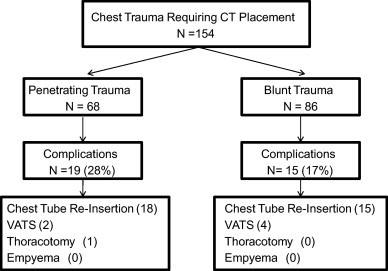 Donc pas de précipitation. L'urgence thoracique est à lever la compression par une thoracostomie au doigt. Un drain si l'EVASAN tarde.
Outcomes following military traumatic cardiorespiratory arrest: A prospective observational study
Tarmey NT et all. Resuscitation 82 (2011) 1194– 1197
Un travail anglais portant sur la prise en charge de 52 arrêts cardiaques des blessés de guerre montre que la survie est de l'ordre de 8% bien que 27% puisse retrouver une activité cardiaque. Les mécanismes lésionnels sont essentiellement représentés par les IED et les lésions des membres. L'exsanguination apparait être la cause principale des décès. Il n'est pas fait mention de pneumothorax suffocants. La survie ne s'observe que chez ceux dont l'arrêt est survenu après le début de leur EVASAN avec une durée maximale de réanimation cardiaque de 24 minutes. La persistance d'une activité électrique pendant la réanimation serait facteur de bon pronostic. L'absence d'activité cardiaque échographique pendant la réanimation serait de mauvais pronostic.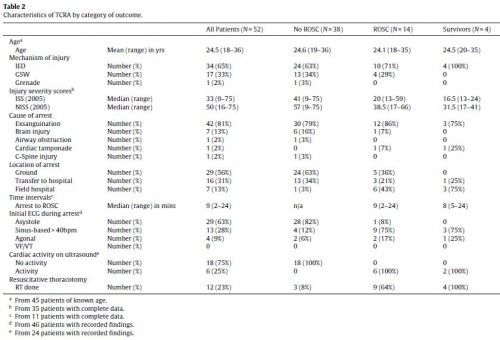 Cet article évoque par ailleurs l'intérêt potentiel de la réalisation d'une thoracotomie de sauvetage à 12 reprises.
En pratique bien que la prise en charge de ce type de patient soit complexe et peu envisageable en cas d'afflux massif/saturant, il apparait d'intérêt majeur de transférer AU PLUS VITE les patients blessés les plus graves dans une structure chirurgicale.
08/09/2011
A meta-analysis of prehospital airway control technique part II: alternative airway devices and cricothyrotomy success rate. Hubble MW et all. Prehosp Emerg Care. 2010 Oct-Dec;14(4):515-30.
Ce document est une métaanalyse récente qui le point dans la littérature sur les alternatives à l'intubation. Elle confirme que la coniotomie chirurgicale est la technique de référence. Elle précise que le tube de King est le dispositiflaryngé le plus pertinent mais qu'il manque globalement de recul sur ces dispositifs.
BACKGROUND:
Airway management is a key component of prehospital care for seriously ill and injured patients. Oral endotracheal intubation (OETI) is the definitive airway of choice in most emergency medical services (EMS) systems. However, OETI may not be an approved skill for some clinicians or may prove problematic in certain patients because of anatomic abnormalities, trauma, or inadequate relaxation. In these situations alternative airways are frequently employed. However, the reported success rates for these devices vary widely, and established benchmarks are lacking.
OBJECTIVE:
We sought to determine pooled estimates of the success rates of alternative airway devices (AADs) and needle cricothyrotomy (NCRIC) and surgical cricothyrotomy (SCRIC) placement through a meta-analysis of the literature.We sought to determine pooled estimates of the success rates of alternative airway devices (AADs) and needle cricothyrotomy (NCRIC) and surgical cricothyrotomy (SCRIC) placement through a meta-analysis of the literature.
METHODS:
We performed a systematic literature search for all English-language articles reporting success rates for AADs, SCRIC, and NCRIC. Studies of field procedures performed by prehospital personnel from any nation were included. All titles were reviewed independently by two authors using prespecified inclusion criteria. Pooled estimates of success rates for each airway technique were calculated using a random-effects meta-analysis model.
RESULTS:
Of 2,005 prehospital airway titles identified, 35 unique studies were retained for analysis of AAD success rates, encompassing a total of 10,172 prehospital patients. The success rates for SCRIC and NCRIC were analyzed across an additional 21 studies totaling 512 patients. The pooled estimates (and 95% confidence intervals [CIs]) for intervention success across all clinicians and patients were as follows: esophageal obturator airway-esophageal gastric tube airway (EOA-EGTA) 92.6% (90.1%-94.5%); pharyngeotracheal lumen airway (PTLA) 82.1% (74.0%-88.0%); esophageal-tracheal Combitube (ETC) 85.4% (77.3%-91.0%); laryngeal mask airway (LMA) 87.4% (79.0%-92.8%); King Laryngeal Tube airway (King LT) 96.5% (71.2%-99.7%); NCRIC 65.8% (42.3%-83.59%); and SCRIC 90.5% (84.8%-94.2%).
CONCLUSIONS:
We provide pooled estimates for prehospital AAD, NCRIC, and SCRIC airway interventions. Of the AADs, the King LT demonstrated the highest insertion success rate (96.5%), although this estimate is based on limited data, and data regarding its ventilatory effectiveness are lacking; more data are available for the ETC and LMA. The ETC, LMA, and PTLA all had similar-but lower-success rates (82.1%-87.4%). NCRIC has a low rate of success (65.8%); SCRIC has a much higher success rate (90.5%) and should be considered the preferred percutaneous rescue airway.
Paramedic training for proficient prehospital intubation. Warner KJ et all. PrehospitalL Emergency Care 2010;14:103–108
20 intubations avant d'être fiable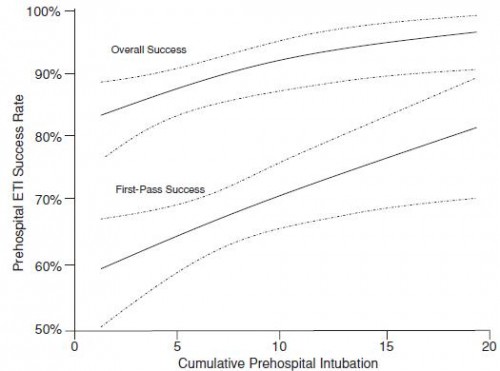 07/09/2011
03/09/2011
02/09/2011
Une sonde de foley est utile non pour réaliser un sondage urinaire sur le terrain mais comme moyen d'hémostase.
L'emploi de sonde à ballonet pour rélaiser un tamponnement de lésions hémorragiques est une réalité.
Ces techniques peuvent trouver un champ d'application au combat notamment pour la prise en charge des traummatisés jonctionnels.
Premier exemple: Un saignement d'origine thoracique.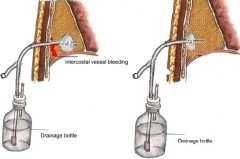 Balloon Foley catheter compression as a treatment for intercostal vessel bleeding. Chao BF et all Injury, Int. J. Care Injured 42 (2011) 958–959
Autres exemples: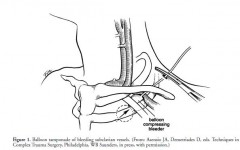 Les plaies cervicales,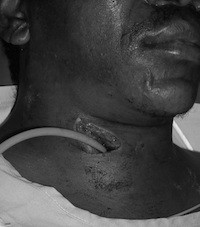 les plaies inguinales,
les épistaxis