05/11/2013
Coniotomie: Un nouveau set
A Comparison of Two Open Surgical Cricothyroidotomy Techniques by Military Medics Using a Cadaver Model

Mabry RL et All., Ann EmergMed. 2013;-:1-5
---------------------------------
Le taux d'échec observé est d'environ 33%. Aussi est on toujours à la recherche de dispositifs d'aide à la réalisation de ce geste considéré comme essentiel. L'originalité du kit présenté ici tient à son guide qui a une forme particulière censée améliorer la performance des combat medics. Relisez la fiche technique de la coniotomie en sachant que vous pouvez vous servir du mandrin d'eschmann comme guide d'insertion si vous avez recours à la technique chirurgicale ce qui est recommandé.
---------------------------------
Study objective: The CricKey is a novel surgical cricothyroidotomy device combining the functions of a tracheal hook, stylet, dilator, and bougie incorporated with a Melker airway cannula. This study compares surgical cricothyroidotomy with standard open surgical versus CricKey technique.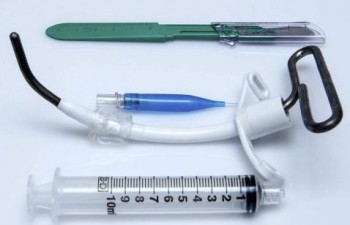 Methods: This was a prospective crossover study using human cadaveric models. Participants included US Army combat medics credentialed at the emergency medical technician–basic level. After a brief anatomy review and demonstration, participants performed in random order standard open surgical cricothyroidotomy and CricKey surgical cricothyroidotomy. The primary outcome was first-pass success, and the secondary outcome measure was procedural time.
Results: First-attempt success was 100% (15/15) for CricKey surgical cricothyroidotomy and 66% (10/15) for open surgical cricothyroidotomy (odds ratio 16.0; 95% confidence interval 0.8 to 326). Surgical cricothyroidotomy insertion was faster for CricKey than open technique (34 versus 65 seconds; median time difference 28 seconds; 95% confidence interval 16 to 48 seconds).
Conclusion: Compared with the standard open surgical cricothyroidotomy technique, military medics demonstrated faster insertion with the CricKey. First-pass success was not significantly different between the techniques