05/11/2013
Pansement hémostatique: Utile?
Comparison of ChitoFlex®, CELOX™, and QuikClot® in control of hemorrhage
Un article qui complète le précédent et qui doit appeler à de la mesure sur l'emploi des pansements hémostatiques. Bien qu'il existe de nombreux travaux comparatifs prônant l'intérêt de tel ou tel dispositifs, le bien fondé de leur emploi extensif ne peut toujours pas être affirmé en condition de combat. Les messages pédagogiques doivent donc avant tout porter sur l'application correcte des pansements compressifs et le packing de plaie.

------------------------------------

BACKGROUND:
Exsanguinating extremity wounds remain the primary source of battlefield mortality. Operating forces employ three agents in Iraq: HemCon® (HemCon Medical Technologies, Inc., Portland, OR), QuikClot® (Z-Medica Corporation, Wallingford, CT), and CELOX™ (SAM Medical, Tualatin, OR). Anecdotal reports suggest that these agents are less useful on small entrance, linear-tract injuries. ChitoFlex® (HemCon Medical Technologies, Inc., Portland, OR) has been introduced but is untested.
STUDY OBJECTIVES:
To compare the equivalency of the ChitoFlex® dressing, QuikClot® ACS+™ dressing, CELOX™, and standard gauze in their effectiveness to control bleeding from non-cavitary groin wounds.
METHODS:
Forty-eight swine were randomly assigned to one of four treatment groups: standard gauze dressing (SD), ChitoFlex® dressing (CF), QuikClot® ACS+™ dressing (QC), and CELOX™ dressing (CX). A groin injury with limited vessel access was created in each animal. Subjects were resuscitated with 500 mL of hetastarch. The primary endpoint was 180-min survival. Secondary endpoints included total blood loss in mL/kg, incidence of re-bleeding, survival times among the animals that did not survive for 180 min, failure to achieve initial hemostasis, incidence of recurrent bleeding, time to initial re-bleeding, amount of re-bleeding, and mass of residual hematoma.
RESULTS:
Survival occurred in 10 of 12 SD animals, 10 of 12 CF animals, 10 of 12 QC animals, and 9 of 12 CX animals. No statistically significant difference was found.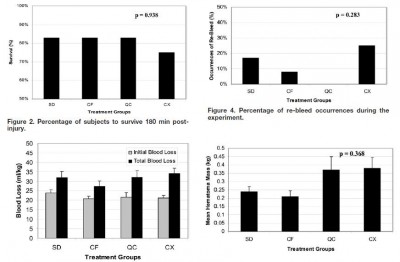 CONCLUSION:
In our study of limited-access extremity bleeding, ChitoFlex® performed equally well in mitigating blood loss and promoting survival. The ChitoFlex® dressing is an equally effective alternative to currently available hemostatic agents. However, no agents were superior to standard gauze in our model of limited access.