27/09/2019
23/09/2019
The effect of military clothing on gunshot wound patterns in a cadaveric animal limb model.
Stevenson T et Al

Int J Legal Med.

2019 Aug 14. doi: 10.1007/s00414-019-02135-9.
The majority of injuries in survivors of gunshot wounds (GSW) are typically to the extremities. Novel wound ballistic research is encouraged to try and capture corporate knowledge on the management of these injuries gained during recent conflicts and understand the wounding patterns seen. With recent work examining the effect of UK military clothing on extremity GSW patterns in a synthetic model, a model with greater biofidelity is needed for ballistic testing. The aim of this study was to assess the effect of UK military clothing on GSW patterns within a cadaveric animal limb model using two types of ammunition commonly used in recent conflicts-7.62 × 39 mm and 5.45 × 39 mm. In total, 24 fallow deer hind limbs were shot, 12 by 7.62 mm projectiles and the remaining 12 shot by 5.45 mm projectiles, further divided into four with no clothing layers (Cnil), four with a single clothing layer (Cmin) and four with maximum clothing layers (Cmax) as worn on active duty by UK military personnel. Limbs were analysed after ballistic impact using contrast CT scanning to obtain measurements of permanent cavity damage, and results were compared using analysis of variance (ANOVA).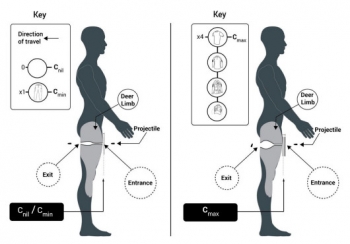 Results showed significantly different damage measurements within limbs with Cmax for both ammunition types compared with the other clothing states. This may result in GSWs that require more extensive surgical management, and invites further study.
21/09/2019
Duration of extremity tourniquet application profoundly impacts soft-tissue antibiotic exposure in a rat model of ischemia-reperfusion injury
Mangum LC et al. Injury 10.1016/j.injury.2019.09.025
Introduction
Extremity tourniquet (TNK) application is an effective means of achieving compressible hemorrhage control in the emergency prehospital and clinical trauma setting. Modern United States military medical doctrine recommends TNK use to prevent lethal hemorrhage from extremity injury, followed by systemic prophylactic antibiotics to prevent wound infection. Because tissue pharmacokinetics of prophylactic antimicrobials during and after TNK-induced limb ischemia are largely unknown, this study was conducted to empirically determine the relationship between TNK application time and soft tissue antibiotic exposure in order to guide medical personnel in the management of extremity trauma.
Materials and Methods
Hind limbs of anesthetized male Sprague Dawley rats were exsanguinated, and ischemia maintained by a pneumatic cuff placed at the level of the mid femur on one limb; the non-ischemic contralateral limb served as comparison tissue. Systemic prophylactic antibiotics (cefazolin, moxifloxacin, or ertapenem) were administered intravenously before or after TNK release following 2 or 4 hours of ischemia with subsequent re-dosing every 12 hours for 3 days. Free antibiotic in the interstitial fluid (ISF) of the tibialis anterior muscle of both hind limbs was recovered via microdialysis during ischemia and over three periods during reperfusion: immediately following TNK release, at 24 hours post TNK release, and at 72 hours post TNK release. Plasma and ISF free drug concentrations were determined by high-performance liquid chromatography.
Results
Tourniquet application prevented delivery of prophylactic antibiotics into distal soft tissue for the duration of ischemia, and caused a profound reduction in skeletal muscle drug exposure for up to 72 hours following TNK release. A progressive decline in tissue antibiotic exposure during reperfusion was observed as TNK times increased from 2 hours to 4 hours.
The timing and severity of reduced drug distribution in post-ischemic skeletal muscle varied substantially among the three antibiotic classes evaluated.
Conclusions
Prolonged tourniquet application can significantly reduce distribution of prophylactic antibiotics into soft tissue during and after ischemia, potentially impairing prophylaxis of extremity wound infection. Our findings support the examination of alternative approaches to wound infection prophylaxis under conditions of delayed casualty evacuation when occlusive hemorrhage control measures are utilized.
L'épaisseur de la paroi thoracique peut entraver l'exsufflation d'un pneumothorax compressif avec des cathéters de moins de 5 cm. Plusieurs publications se sont intéressées à cette problématique dont la connaissance n'est pourtant pas nouvelle. C'est ce qu'exprime l'image qui suit. Les auteurs donnaient un conseil de bon sens: Maintenez l'aiguille enfoncée dans le tissu sous-cutané pour pénétrer l'espace pleural. Dans l'observation présentée une fois cette pression interrompue, l'extrémité du cathéter ne se trouvant plus dans l'espace pleural, le geste devenait inéfficace avec pour corollaire une exsufflation incomplète.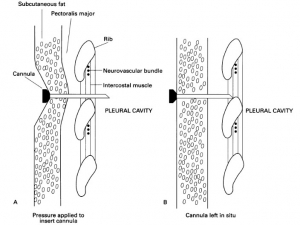 Clic sur l'image pour accéder au document
17/09/2019
Comparison

of the

Causes

of

Death

and

Wounding

Patterns

in

Urban

Firearm-Related

Violence

and

Civilian

Public

Mass

Shooting

Events

.
Maghami S et Al

J Trauma Acute Care Surg.

2019 Aug 5. doi: 10.1097/TA.0000000000002470.
-----------------------------------
Tueries massives et actes isolés de vilence urbaines par armes à feu, les profils lésionnels et causes de décès sont très proches. La première cause de décès évitable apparaît être les lésions thoraciques.
BACKGROUND:
There are no reports comparing wounding pattern in urban and public mass shooting events (CPMS). Because CPMS receive greater media coverage, there is a connation that the nature of wounding is more grave than daily urban gun violence. We hypothesize that the mechanism of death following urban GSWs is the same as has been reported following CPMS.
METHODS:
Autopsy reports of all firearm related deaths in Washington, DC were reviewed from January 1, 2016 to December 31, 2017. Demographic data, firearm type, number and anatomic location of GSWs, and organ(s) injured were abstracted. The organ injury resulting in death was noted. The results were compared to a previously published study of 19 CPMS events involving 213 victims.
RESULTS:
186 urban autopsy reports were reviewed. There were 171 (92%) homicides and 13 (7%) suicides. Handguns were implicated in 180 (97%) events. One hundred eight gunshots (59%) were to the chest/upper back, 85 (46%) to the head, 77 (42%) to an extremity, and 71 (38%) to the abdomen/lower back. The leading mechanisms of death in both urban firearm violence and CPMS were injury to the brain, lung parenchyma, and heart. Fatal brain injury was more common in CPMS events as compared to urban events involving a handgun.
CONCLUSION:
There is little difference in wounding pattern between urban and CPMS firearm events. Based on the organs injured, rapid point of wounding care and transport to a trauma center remain the best options for mitigating death following all GSW events.
Methoxyflurane

in Pre-Hospital Settings: A Review of Clinical Effectiveness, Cost-Effectiveness and Guidelines
--------------------------------
Beaucoup d'intérêt pour cet agent tombé en désuétude en anesthéise du fait d'effets secondaires importants mais utilisé comme antalgique. La HAS a émis un avis pour le moin mitigé. C'est également la position de l'agence du médicament canadienne qui reconnait des effets antalgiques réel mais sans avantage vrai par rapport à la morphine dans le domaine pré-hospitalier.
--------------------------------
The objective of this review is to evaluate the clinical effectiveness, cost-effectiveness, and evidence-based guidelines for the use of low-dose methoxyflurane for the management of moderate to severe pain associated with trauma or procedures in the pre-hospital setting.
15/09/2019
Fatal Wounding Pattern and Causes of Potentially Preventable Death Following the Pulse Night Club Shooting Event.
Smith ER et Al. Prehosp Emerg Care. 2018 Nov-Dec;22(6):662-668.
---------------------------------------
Cet article confirme que la nécessité d'une organisation spécifique de la prise en charge des victimles de terrorisme. La répartition des causes évitables de décès après tirs d'armes à feu diffère quelque peu des problématiques militaires. La probabilité de survie est moindre. Si la stratégie de pose précoce du garrot est importante, elle n'est pas suffisante. Ainsi il est rapporté qu'un tiers des décès pourrait être évités, que si des exsanguinations liées à des atteintes des membres sont observées, les causes thoraciques apparaissent être une cible de prise en charge précoce notamment par exsufflation de pneumothorax compressif dont l'occurence apparaît plus fréquente qu'en milieu militaire.

---------------------------------------
BACKGROUND:
Mortality following shooting is related to time to provision of initial and definitive care. An understanding of the wounding pattern, opportunities for rescue, and incidence of possibly preventable death is needed to achieve the goal of zero preventable deaths following trauma.
METHODS:
A retrospective study of autopsy reports for all victims involved in the Pulse Nightclub Shooting was performed. The site of injury, probable site of fatal injury, and presence of potentially survivable injury (defined as survival if prehospital care is provided within 10 minutes and trauma center care within 60 minutes of injury) was determined independently by each author. Wounds were considered fatal if they involved penetration of the heart, injury to any non-extremity major blood vessel, or bihemispheric, mid-brain, or brainstem injury.
RESULTS:
There were an average of 6.9 wounds per patient. Ninety percent had a gunshot to an extremity, 78% to the chest, 47% to the abdomen/pelvis, and 39% to the head. Sixteen patients (32%) had potentially survivable wounds, 9 (56%) of whom had torso injuries. Four patients had extremity injuries, 2 involved femoral vessels and 2 involved the axilla. No patients had documented tourniquets or wound packing prior to arrival to the hospital.

One patient had an isolated C6 injury and 2 victims had unihemispheric gunshots to the head.
CONCLUSIONS:
A comprehensive strategy starting with civilian providers to provide care at the point of wounding along with a coordinated public safety approach to rapidly evacuate the wounded may increase survival in future events.
13/09/2019
12/09/2019
08/09/2019
Prognostic

value

of

lactate

in

prehospital

care

as a

predictor

of

early

mortality

.
----------------------------
Les outils d'aideau diagnostic comme l'échographie tendent à devenir d'emploi routinier en préhospitalier. Le dosage des lactates fait partie de ces outils.
----------------------------
BACKGROUND:
Prehospital Emergency Medical Services must attend to patients with complex physiopathological situations with little data and in the shortest possible time. The objective of this work was to study lactic acid values and their usefulness in the prehospital setting to help in clinical decision-making.
STUDY DESIGN:
We conducted a longitudinal prospective, observational study on patients over 18 years of age who, after being evaluated by the Advanced Life Support Unit, were taken to the hospital between April and June 2018. We analyzed demographic variables, prehospital lactic acid values and early mortality (<30 days). The area under the curve of the receiver operating characteristic was calculated for the prehospital value of lactic acid.
RESULTS:
A total of 279 patients were included in our study. The median age was 68 years (interquartile range: 54-80 years). Overall 30-day mortality was 9% (25 patients). The area under the curve for lactic acid to predict overall mortality at 30 days of care was 0.82 (95% CI: 0.76-0.89).

The lactate value with the best sensitivity and specificity overall was 4.25 mmol/L with a sensitivity of 84% (95% CI: 65.3-93.6) and specificity of 70% (95% CI: 65.0-76.1).
CONCLUSIONS:
The level of lactic acid can be a complementary tool in the field of prehospital emergencies that will guide us early in the detection of critical patients.