23/09/2019
+ il y a de couches + c'est important
The effect of military clothing on gunshot wound patterns in a cadaveric animal limb model.
Stevenson T et Al

Int J Legal Med.

2019 Aug 14. doi: 10.1007/s00414-019-02135-9.
The majority of injuries in survivors of gunshot wounds (GSW) are typically to the extremities. Novel wound ballistic research is encouraged to try and capture corporate knowledge on the management of these injuries gained during recent conflicts and understand the wounding patterns seen. With recent work examining the effect of UK military clothing on extremity GSW patterns in a synthetic model, a model with greater biofidelity is needed for ballistic testing. The aim of this study was to assess the effect of UK military clothing on GSW patterns within a cadaveric animal limb model using two types of ammunition commonly used in recent conflicts-7.62 × 39 mm and 5.45 × 39 mm. In total, 24 fallow deer hind limbs were shot, 12 by 7.62 mm projectiles and the remaining 12 shot by 5.45 mm projectiles, further divided into four with no clothing layers (Cnil), four with a single clothing layer (Cmin) and four with maximum clothing layers (Cmax) as worn on active duty by UK military personnel. Limbs were analysed after ballistic impact using contrast CT scanning to obtain measurements of permanent cavity damage, and results were compared using analysis of variance (ANOVA).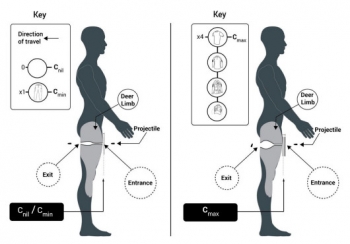 Results showed significantly different damage measurements within limbs with Cmax for both ammunition types compared with the other clothing states. This may result in GSWs that require more extensive surgical management, and invites further study.