28/01/2019
Prehospital cricothyrotomies in a helicopter emergency medical service: analysis of 19,382 dispatches
Patrick Schober et Al. BMC Emerg Med. 2019; 19: 12. Published online 2019 Jan 23. doi: 10.1186/s12873-019-0230-9
BACKGROUND:
Creating a patent airway by cricothyrotomy is the ultimate maneuver to allow oxygenation (and ventilation) of the patient. Given the rarity of airway management catastrophes necessitating cricothyrotomy, sufficiently sized prospective randomized trials are difficult to perform. Our Helicopter Emergency Medical Service (HEMS) documents all cases electronically, allowing a retrospective analysis of a larger database for all cases of prehospital cricothyrotomy.
METHODS:
We analyzed all 19,382 dispatches of our HEMS 'Lifeliner 1', since set-up of a searchable digital database. This HEMS operates 24/7, covering ~ 4.5 million inhabitants of The Netherlands. The potential cases were searched and cross-checked in two independent databases.
RESULTS:
We recorded n = 18 cases of prehospital cricothyrotomy. In all 18 cases, less invasive airway techniques, e.g., supraglottic devices, were attempted before cricothyrotomy. With exception of 2 cases, at least one attempt of orotracheal intubation had been performed before cricothyrotomy. Out of the 18 cases, 4 were performed by puncture-based technique (Melker), the remaining 14 cases by surgical technique. Indications for cricothyrotomy were diverse, dividable into 9 trauma cases and 9 medical cases. The procedure was successful in all but one case (17/18, i.e., 94%; with a 95% confidence interval of 72.7-99.9%). Outcome was such that 6/18 patients arrived at the hospital alive. Long term outcome was poor, with only 2/18 patients discharged from hospital alive.
CONCLUSIONS:
Cricothyrotomy remains, although rare, a regularly occurring requirement in (H)EMS. Our finding of a convincingly high success rate of 94% in trained hands encourages training and a timely performance of cricothyrotomy.
24/01/2019
23/01/2019
Minimally invasive preperitoneal balloon tamponade and abdominal aortic junctional tourniquet versus open packing for pelvic fracture-associated hemorrhage: Not all extrinsic compression is equal.
--------------------------------------------------------
On propose souvent la réalisation d'une hémostase temporaire par a pose de sondes à ballonet. Ce travail (partiellement déjà présenté en 2016) rapporte une expérience de ce type avec un produit initialement dédié à la chirurgie pariétale herniaire. La simplicité de sa pose et son efficacité semblent prometteurs du moins chez le cochon.
--------------------------------------------------------
BACKGROUND:
Minimally invasive preperitoneal balloon tamponade (PPB) and abdominal aortic junctional tourniquets (AAJT) have been proposed as alternatives to open preperitoneal packing (OP) for the management of pelvic fracture-associated hemorrhage. We hypothesized that the PPB (SpaceMaker Pro) and AAJT would result in similar rates of survival and blood loss versus OP METHODS: 32 swine underwent creation of a combined open-book pelvic fracture and major iliac vascular injuries. Animals were randomized to no intervention (n=7), OP (n=10), PPB (n=9), or AAJT (n=6) at a mean arterial pressure <40 mmHg following initiation of uncontrolled hemorrhage. Survival (up to 60 min + 10 min after intervention reversal), hemodynamics, extraperitoneal pressures, blood loss, and associated complications were compared between groups.
RESULTS:
Prior to injury, no difference was measured between groups for weight, hemodynamics, lactate, and hematocrit (all p>0.05). The injury was uniformly lethal without intervention, with survival time (mean) of 5 min, peak preperitoneal pressure (PP) of 14 mmHg, blood loss of 960 g, and peak lactate of 2.6 mmol/L. Survival time was 44 min with OP vs. 60 min with PPB and AAJT (p<0.01). Peak PP (mmHg) was 19 with OP, 23 with PPB, and 23 with AAJT (p>0.05). Blood loss (g) was 850 with OP, 930 with PPB, and 600 with AAJT (p>0.05). Peak lactate (mmol/L) was 3.3 with OP, 4.3 with PPB, and 6.3 with AAJT (p<0.01). Only 33% of AAJT animals survived intervention reversal vs. 60% for OP and 67% for PPB (p<0.01). Necropsy revealed bowel/bladder injury in 50% of AAJT subjects vs. 0% in all other arms (p<0.01).
CONCLUSIONS:
PPB is a safe and potentially effective alternative to OP for the management of lethal pelvic fracture-associated hemorrhage. AAJT offers a similar survival benefit to PPB but has concerning rates of ischemia-reperfusion and compressive abdominal organ injury.
22/01/2019
Safety

evaluation

of a

lyophilized

platelet

-

derived

hemostatic

product

.
BACKGROUND:
Hemorrhage causes significant morbidity and mortality in people aged <65 years. A lyophilized platelet-derived hemostatic agent (Thrombosomes) demonstrated hemostatic efficacy in animal models. We report the results of the first safety trial of autologous Thrombosomes given to normal subjects.
STUDY DESIGN AND METHODS:
Ten subjects received autologous Thrombosomes prepared from their apheresis platelets, and five control subjects received a buffer solution. There were five cohorts, with three subjects per cohort (two in the Thrombosomes group and one in the control group). Doses escalated from 1/1,000 to 1/10 of a proposed efficacious dose. Cohorts 4 and 5 received the highest dose, but in Cohort 5, one-half the dose was infused 2 hours apart. Cohorts 1 through 3 were monitored for 42 days, Cohorts 4 and 5 were monitored for 60 days using hematology, coagulation, and chemistry assays and antibody testing.
RESULTS:
There were no serious adverse events (AEs) and no subject withdrawals. There were eight treatment-related AEs (TRAEs) in 5 of 15 subjects (33%) (four in the Thrombosomes group and one in the control group). Of four subjects receiving the highest doses, three had TRAEs. One had elevated D-dimer, prothrombin fragment 1 + 2, and white blood cell count (subject had concurrent upper respiratory tract infection); one had T-wave inversions in precordial leads V2 and V3 without elevated troponin or symptoms; and one had a platelet autoantibody without change in plateletcount. All subjects' TRAEs resolved by Day 21.
CONCLUSION:
There were no serious AEs in this small study. Thrombosomes were considered safe at the doses assessed. Future, larger trials will be needed to further assess safety and efficacy.
21/01/2019
L'emploi de sang total n'est pas une nouveauté. C'est même la base de la transfusion sanguine dans les pays à faible infrastructure médicale.
Nous en avions, comme le PLyo, perdu l'usage avec l'arrivée des transfusions fractionnées par composants. Le renouveau du sang total pour la prise en charge des blessés de guerre l'a remis en selle, de même que toutes les techniques de préparation permettant sa conservation tout en préservant ses qualités hémostatiques. Le sang total « froid » préparé par le CTSA est un produit universel, déleucocyté, qualifié biologiquement, à bas titre d'hémolysine. Son intérêt principal est d'apporter plaquettes fonctionnelles et facteurs de coagulation. Il reste à démontrer que les qualités potentielles de ce "nouveau" produit ne s'altèrent pas avec le temps. Il peut être a priori conservé 3 semaines (?). Il s'agit d'une nouvelle importante pour le développement de la transfusion préhospitalière.
Older

Blood

Is

Associated

With

Increased

Mortality

and

Adverse

Events

in

Massively

Transfused

Trauma

Patients

:

Secondary

Analysis

of the

PROPPR

Trial

.
STUDY OBJECTIVE:
The transfusion of older packed RBCs may be harmful in critically ill patients. We seek to determine the association between packed RBC age and mortality among trauma patients requiring massive packed RBC transfusion.
METHODS:
We analyzed data from the Pragmatic, Randomized Optimal Platelet and Plasma Ratios trial. Subjects in the parent trial included critically injured adult patients admitted to 1 of 12 North American Level I trauma centers who received at least 1 unit of packed RBCs and were predicted to require massive blood transfusion. The primary exposure was volume of packed RBC units transfused during the first 24 hours of hospitalization, stratified by packed RBC age category: 0 to 7 days, 8 to 14 days, 15 to 21 days, and greater than or equal to 22 days. The primary outcome was 24-hour mortality. We evaluated the association between transfused volume of each packed RBC age category and 24-hour survival, using random-effects logistic regression, adjusting for total packed RBC volume, patient age, sex, race, mechanism of injury, Injury Severity Score, Revised TraumaScore, clinical site, and trial treatment group.
RESULTS:
The 678 patients included in the analysis received a total of 8,830 packed RBC units. One hundred patients (14.8%) died within the first 24 hours. On multivariable analysis, the number of packed RBCs greater than or equal to 22 days old was independently associated with increased 24-hour mortality (adjusted odds ratio [OR] 1.05 per packed RBC unit; 95% confidence interval [CI] 1.01 to 1.08): OR 0.97 for 0 to 7 days old (95% CI 0.88 to 1.08), OR 1.04 for 8 to 14 days old (95% CI 0.99 to 1.09), and OR 1.02 for 15 to 21 days old (95% CI 0.98 to 1.06). Results of sensitivity analyses were similar only among patients who received greater than or equal to 10 packed RBC units.
CONCLUSION:
Increasing quantities of older packed RBCs are associated with increased likelihood of 24-hour mortality in trauma patients receiving massive packed RBC transfusion (≥10 units), but not in those who receive fewer than 10 units.
16/01/2019
The

impact

of

prehospital

administration

of

freeze-dried

plasma

on

casualty

outcome

.
-------------------------------
Ce travail qui porte sur l'étude de l'impact, chez des blessés en choc hémorragique, de la perfusion préhospitalière de PLyo confirme son intérêt en terme d'économie transfusionnelle mais pas en terme de mortalité. Les auteurs mettent en avant la taille de leur cohorte de blessés pour expliquer ce résultat négatif. On notera également les délais courts de transport.
-------------------------------
BACKGROUND:
Hemorrhage is the most common preventable cause of death in both civilian and military trauma. There is no consensus regarding the appropriate fluid resuscitation protocol. Plasma, as a resuscitative fluid, has substantial benefits as a volume expander, owing to its relatively high oncotic pressure and its positive effect on trauma-induced coagulopathy by replenishing the lost coagulation factors, rather than diluting the casualty's remaining factors. The Israel Defense Force Medical Corps decided to use freeze-dried plasma (FDP) as the fluid of choice for casualties in hemorrhagic shock in the prehospital setting. The aim of our study is to compare the differences of coagulation, perfusion measurements, resource utilization, and outcome between casualties receiving FDP to casualties who did not receive FDP in the prehospital setting.
METHODS:
This is a retrospective matched cohort study based on two groups of casualties (those treated with FDP vs. those without FDP treatment). The control group was compiled in three steps of precision for age, sex, mechanism of injury and maximum level of severity for each nine injured body regions. Data were collected from the IDF Trauma Registry and The National Israel Trauma Registry.
RESULTS:
The study group comprised 48 casualties receiving FDP and 48 controls with no differences in demographic, evacuation time, and injury characteristics. The FDP group demonstrated a lower level of hemoglobin (12.7 gr/dzl) (odds ratio [OR], 3.11; 95% confidence interval [CI], 1.10-8.80), lower level of international normalized ratio (1.1) (OR, 3.09; 95% CI, 1.04-9.14), and lower level of platelets (230 × 109/L) (OR, 3.06; 95% CI, 1.16-8.06). No other differences were found between the two groups.
" In the total study population, seven (7.3%) casualties died in hospital, among which 8.3% were from the FDP group, compared with 6.2% from the control group"
CONCLUSION:
The use of FDP in the prehospital setting has logistic benefits and a positive effect on coagulation profile, with no other significant effects. Future studies need to be performed on larger groups to verify trends or nullify our hypotheses.
09/01/2019
La qualité des garrots mis à disposition des combattants est très importante. On peut penser que c'est le cas avec les fabricants ayant pignon sur rue. C'est le cas notamment de TAC MED Solutions (SOFT Tourniquet) et de CAT Ressources ( le CAT). Il existe des machines spécifiquement conçues pour ces tests.
Clic sur l'image pour accéder au site
08/01/2019
Prehospital

Tranexamic

Acid Administration During Aeromedical Transport After Injury.
-------------------------------
Un article de plus qui doit faire interroger sur l'intérêt réel du TXA, notamment son administration quai systématique à l'avant et pointe la réalité des complications thrombo-emboliques. Une plus grande sélectivité dans les critères d'administration est discutée.
-------------------------------
BACKGROUND:
Tranexamic acid (TXA) has been shown to reduce mortality in the treatment of traumatic hemorrhage. This effect seems most profound when given early after injury. We hypothesized that extending a protocol for TXA administration into the prehospital aeromedical setting would improve outcomes while maintaining a similar safety profile to TXA dosed in the emergency department (ED).
MATERIALS AND METHODS:
We identified all trauma patients who received TXA during prehospital aeromedical transport or in the ED at our urban level I trauma center over an 18-mo period. These patients had been selected prospectively for TXA administration using a protocol that selected adult trauma patients with high-risk mechanism and concern for severe hemorrhage to receive TXA. Patient demographics, vital signs, lab values including thromboelastography, blood administration, mortality, and complications were reviewed retrospectively and analyzed.
RESULTS:
One hundred sixteen patients were identified (62 prehospital versus 54 ED). Prehospital TXA patients were more likely to have sustained blunt injury (76% prehospital versus 46% ED, P = 0.002). There were no differences between groups in injury severity score or initial vital signs.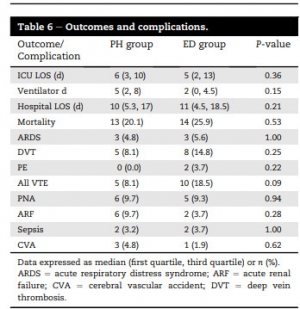 There were no differences in complication rates or mortality. Patients receiving TXA had higher rates of venous thromboembolic events (8.1% in prehospital and 18.5% in ED) than the overall trauma population (2.1%, P < 0.001).
CONCLUSIONS:
Prehospital administration of TXA during aeromedical transport did not improve survival compared with ED administration. Treatment with TXA was associated with increased risk of venous thromboembolic events. Prehospital TXA protocols should be refined to identify patients with severe hemorrhagic shock or traumatic brain injury.