11/12/2016
PEG-20k: Le graall du prolongef field care ?
Low-volume resuscitation using polyethylene glycol-20k in a preclinical porcine model of hemorrhagic shock
Plant V. et Al. J Trauma Acute Care Surg. 2016 Dec;81(6):1056-1062.
-----------------------------------
Une nouvelle approche de la prise en compte des lésions induites par l'ischémie tissulaire qui est basée sur l'expérience de l'emploi des solutés utilisés pour conserver les organes en instance de transplantation. Grosso-modo: Remplir les espaces interstitiels par des solutés ne dépendant pas de mécanismes énergétiques. Une explication ici.
-----------------------------------
INTRODUCTION:
Polyethylene glycol-20k (PEG-20k) is highly effective for low-volume resuscitation (LVR) by increasing tolerance to the low-volume state. In our rodent shock model, PEG-20k increased survival and expanded the "golden hour" 16-fold compared to saline. The molecular mechanism is largely attributed to normalizations in cell and tissue fluid shifts after low-flow ischemia resulting in efficient microvascular exchange. The objective of this study was to evaluate PEG-20k as an LVR solution for hemorrhagic shock in a preclinical model.
METHODS:
Anesthetized male Yorkshire pigs (30-40 kg) were hemorrhaged to a mean arterial pressure (MAP) of 35 to 40 mm Hg. Once lactate reached 7 mmol/L, either saline (n = 5) or 10% PEG-20k (n = 5) was rapidly infused at 10% calculated blood volume. The primary outcome was LVR time, defined by the time from LVR administration to the time when lactate again reached 7 mmol/L. Other outcomes measured included MAP, heart rate, cardiac output, mixed venous oxygen saturation, splanchnic blood flow, and hemoglobin.
RESULTS:
Relative to saline, PEG-20k given after controlled hemorrhage increased LVR time by 16-fold, a conservative estimate given that the lactate never rose after LVR in the PEG-20k group. Survival was 80% for PEG-20k LVR compared to 0% for the saline controls (p < 0.05).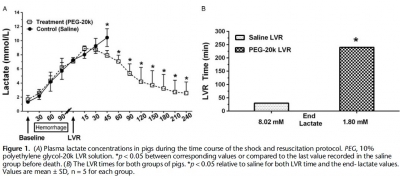 Polyethylene glycol-20k also significantly decreased heart rate after hemorrhage and increased cardiac output, MAP, splanchnic flow, and mixed venous oxygen saturation. Falling hemoglobin concentrations suggested sizable hemodilution from fluid shifts into the intravascular compartment.
CONCLUSIONS:
In a preclinical model of controlled hemorrhagic shock, PEG-20k-based LVR solution increased tolerance to the shock state 16-fold compared to saline. Polyethylene glycol-20k is a superior crystalloid for LVR that may increase safe transport times in the prehospital setting and find use in hospital emergency departments and operating rooms for patients awaiting volume replacement or normalization of cell, tissue, and compartment fluid volumes.