12/11/2011
Cause de décès en afghanistan: Actualités canadiennes
Causes of Death in Canadian Forces Members Deployed to Afghanistan and Implications on Tactical Combat Casualty Care Provision
Pannell D et all. J Trauma. 2011;71: S401–S407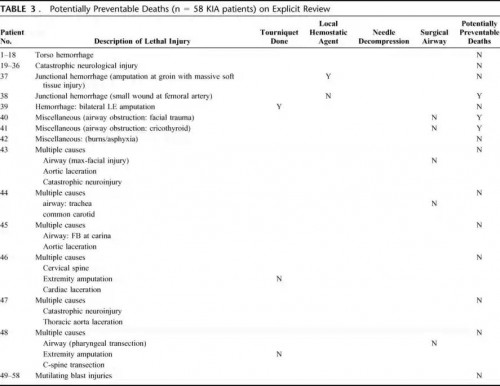 Ce document identifie par ailleurs l'importance de la formation des personels à la gestion des voies aériennes, des mesures de stabilisation du rachis en cas d'IED, du recours aux sondes de foley pour le tamponenment des hémorragies jonctionnelles en cas de non application possible de pansement hémostatique.
-------Morceaux choisis:
We recommend that combat medical technicians should continue to practice surgical airways in live-tissue laboratories. In addition, didactic teaching should continue to review the indications for cricothyrotomy on the battlefield. .........
...... Based on this review, we also feel that future Canadian TCCC courses may be improved by giving battlefield providers a treatment option for dealing with exsanguination from small wounds at junctional areas (groin, axillary, and neck). Currently, TCCC providers only have hemostatic dressings to deal with this difficult problem. However, unfavorable wound geometry can make utilization of these products unfeasible. In addition, TCCC providers have no option for treating carotid artery hemorrhage in the neck. We suggest that combat medical technicians also carry urinary catheters; these can be inserted into wound tracts of small wounds. Insufflation of the balloon may provide temporary hemostasis of junctional bleeding and buy enough time for evacuation to a definitive surgical facility. Another option would be to pack such wounds with ribbon gauze. These options may also be used for posterior packing of lifethreatening epistaxis associated with facial fractures.
On our review, we also noted that three casualties.....
....we recommend that spinal immobilization be considered for all casualties suffering from blunt trauma or IED-related incidents during "Tactical Field Care," if the tactical situation permits, and if the medical technician deems the situation to be safe enough to proceed with this procedure.