22/09/2013
Pansement hémostatique:Vraiment utile ?
Watters J et all. J Trauma. 2011;70:1413–1419
Un travail intéressant qui s'interroge sur le vrai intérêt des pansements hémostatiques. Sans remettre en question ce dernier cet article remet en question le positionnement de ce type de matériel. Dans un travail expérimental sur un modèle animal, un packing de plaie avec de la gaze simple serait plus rapide et tout aussi efficace qu'un packing effectué avec le Combat gauze ou le celox gauze.
-----------------------------------------------------------------
Results: All animals survived to study end. There were no differences in baseline physiologic or coagulation parameters or in dressing success rate (SG: 8/8, CG: 4/8, XG: 6/8) or blood loss between groups (SG: 260 mL, CG: 374 mL, XG: 204 mL; p > 0.3). SG (40 seconds ± 0.9 seconds) packed significantly faster than either the CG (52 ± 2.0) or XG (59 ± 1.9). At 120 minutes, all groups had a significantly shorter time to clot formation compared with baseline (p < 0.01). At 30 minutes, the XG animals had shorter time to clot compared with SG and CG animals (p < 0.05). All histology sections had mild intimal and medial edema. No inflammation, necrosis, or deposition of dressing particles in vessel walls was observed. No histologic or ultrastructural differences were found between the study dressings.
-----------------------------------------------------------------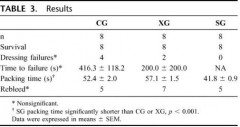 "There are reasons that standard woven gauze bandages have existed for millennia. They are lightweight, absorbent, highly conformable, stable in a variety of environmental conditions, and inexpensive. Multiple advanced hemostatic agents have resulted in superior homeostasis, improved outcomes, and likely saved lives compared with SG when applied according to manufacturers' recommendations for compression time. However, in a care under fire scenario or in a situation of mass casualties, compression times of 2 minutes to 5 minutes are not feasible. During ongoing battle, only lifethreatening injuries should be addressed and often the wounded must self-apply a tourniquet or dressing. An individual rendering self or buddy aid will need to continue to engage in battle as the first priority. Major vascular injuries, which cannot be controlled through application of a tourniquet, must be addressed as quickly as possible before profound bleeding incapacitates the casualty. Similarly, when there are persons with multiple injuries or wounds to treat, dressings must be rapidly placed and effective without prolonged hold times"
Conclusion: Ce qui compte c'est la compression et le packing de plaie